By SHANE STURTZ
hawkeyesports.com
IOWA CITY, Iowa – In a game of runs featuring two of the Big Ten's top offenses, the University of Iowa (6-1, 2-1) outlasted Rutgers (5-2, 1-2), 90-84, Thursday in women's basketball inside Carver-Hawkeye Arena.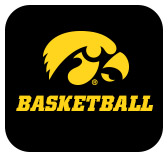 The Hawkeyes jumped out to a 32-12 lead with 8:41 left in the first half thanks to a 22-2 run, but the Scarlet Knights responded with a 22-4 spurt of their own.
Iowa made eight of its last nine shots to end the first quarter, but committed 10 second-quarter turnovers. At the break, the Hawkeyes held a 42-40 lead.
Rutgers, who leads the country with 16.3 steals per game, pressed for most of the game and recorded 15 steals, but for a young team, Iowa handled the pressure well, committing eight turnovers in the second half.
Equally impressive, the Hawkeyes shot a season-best 54.5 percent (12-of-22) from 3-point land, despite playing for the first time in 10 days. All five of Iowa's starters were in double figures against a scrappy defensive team.
"It's good for our team to get a lot of people involved in the offense," Iowa head coach Lisa Bluder said. "We're getting there. I'm proud of five people in double figures."
Sophomore McKenna Warnock drained four first-quarter 3-pointers and finished with a career-high five triples to total 18 points. Warnock set the tone for Iowa's offense.
"She's a warrior, Bluder said. "I'm happy she's back, because she's a big factor for us."
Sophomore Gabbie Marshall added to the 3-point barrage with two clutch 3-pointers in the third quarter, and redshirt sophomore Kate Martin delivered the final blow in the fourth.
Rutgers led for the first time since the first quarter when Arella Guirantes, who scored a game-high 34 points, drained a 3-pointer to give the Scarlet Knights a 52-51 lead with 4:05 remaining in the third quarter.
But after a Monika Czinano layup and Marshall's 3-pointers Iowa led by five, 59-54. Czinano scored 17 points on 6-of-10 shooting and Marshall scored eight of her 10 points in the third quarter.
After the teams traded 6-0 runs to start the fourth quarter, Iowa led 69-62 with 7:29 to play.
Freshman Caitlin Clark then scored 12 of Iowa's final 21 points, but it was Martin who delivered the dagger, draining a 3-pointer from the left wing with 37.4 seconds left in the game to give Iowa an 84-78 lead.
Guirantes made a 3-pointer the following possession, but that was the last gasp for the Scarlet Knights.
Clark finished with a team-high 28 points, scoring 20-or-more points for the sixth time in seven games.
OF NOTE
Iowa extended its home winning steak to 41 games — the second-longest in the nation behind Baylor (61).
Iowa outrebounded Rutgers, 29-22. Warnock grabbed a game-high nine rebounds.
Martin's 10 points are a career high.
UP NEXT
Iowa travels to Champaign, Illinois, on Sunday to face Illinois inside the State Farm Center at 1 p.m. (CT). The game will be streamed live on BTN Plus.