By DARREN MILLER
hawkeyesports.com
IOWA CITY, Iowa — The road to 42 straight wins in Carver-Hawkeye Arena was rough and winding in the early going Wednesday for the University of Iowa women's basketball team. It turned into swift sailing down a black and gold superhighway.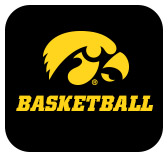 More than once in the first half, when Iowa trailed Minnesota by as many as 16 points, the conductor of the Hawkeye Express pleaded with her student-athletes to move the ball up court full steam ahead, an approach that led to large early leads in recent wins against Western Illinois, Rutgers and Illinois.
"I don't ever like to walk the ball up the floor, it drives me crazy," Iowa head coach Lisa Bluder said. "We started walking the ball up the court and I'm not sure why. Fast break has always been one of our best offenses; we wear people down with it and I think you saw that in the third and fourth quarters when we got great fast break points because we kept pushing."
On this January night, it took 26 minutes and 26 seconds for the Hawkeyes to forge ahead in a game they won, 92-79. Trailing 48-38 at halftime, Iowa opened the second half by converting four of its first six field goals from distance. The go-ahead bucket was a fast break beauty carried out by two players who stepped up at a critical time. Senior Alexis Sevillian launched a half-court pass that sophomore Kate Martin caught in stride on the left side and coasted in for an uncontested layup and a 59-58 lead. Sophomore McKenna Warnock made a 3-point field goal 30 seconds later and Iowa began to stretch its lead that reached 16 midway through the final quarter.
"We were moving up and down in transition and I think we wore them out a little bit," Bluder said of the go-ahead score.
"When you have someone like Caitlin Clark on the floor, you're never out of a game."

Lisa Bluder, Iowa head coach
In their two most recent Big Ten games, the Hawkeyes raced to first quarter leads of 16 and 25 points. They kept the scoring onslaught packed away until closing the second quarter on a 7-1 run and opening the third with a 17-7 streak to tie the score at 55.
"I thought that (30-point third quarter) was a thing of beauty," Bluder said. "The second half was amazing, the third quarter was amazing. The way we came out in the second half…we have 15 assists in the second half alone, we out-rebounded them by 12 in the second half (25-13), we get to the free throw line nine times and they get to the free throw line two times."
Freshman Caitlin Clark, in her ninth game as a collegian, scored 37 points with 11 rebounds and a team-high five assists. She made five 3-point field goals and 8 of 9 free throws. If you think that stat line sounds like a broken record, get used to it.
"I think in her four-year career I'm going to run out of adjectives to describe her," Bluder said. "That was pretty spectacular. When she feels it, those deep 3s are no problem…when you have someone like Caitlin Clark on the floor, you're never out of a game."
In the "thing of beauty" third, Clark scored 12 points on 4 of 5 shooting (4 of 4 from distance), with five rebounds and four assists. As a team, Minnesota scored 13 points.
Iowa (8-1, 4-1) hits the road Saturday at Northwestern. The game begins at 6 p.m. (CT) and will be televised by BTN. Finally, Hawkeye fans will get to watch this up-tempo, fast-breaking group without squinting at a table, computer monitor or cellular phone.
Chances are good that an Iowa team averaging 92 points a game won't be walking the ball up court.