By SHANE STURTZ
hawkeyesports.com
IOWA CITY, Iowa – Behind freshman Caitlin Clark's career-high 37 points, the University of Iowa women's basketball team (8-1, 4-1) defeated Minnesota (2-5, 1-4), 92-79, on Wednesday night on Mediacom Court.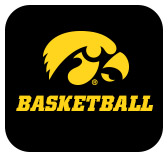 Iowa's third-straight Big Ten win and 42nd-straight win inside Carver-Hawkeye Arena got off to a sluggish start. The Hawkeyes never led until the third quarter and trailed by as many 16 points in the first half, but Iowa flipped the switch to start the second half.
"Tale of two halves," head coach Lisa Bluder said. "The second half was amazing. The third quarter was amazing. First half — not so great. We allowed Minnesota to get into a rhythm, in the first half."
The Gophers had three players in double figures and drained 8-of-16 first-half 3-pointers, but Iowa cut the deficit to 10, trailing 48-38 at halftime, with momentum shifting towards the Hawkeyes.
In the third quarter, Clark put on a show.
She knocked down all four of her 3-point attempts for 12 points to nearly outscore Minnesota by herself. The Hawkeyes led for the first time all game, 59-58, with 3:34 left in the third on a wide-open transition layup by redshirt sophomore Kate Martin that was set up on a full-court pass by redshirt senior Alexis Sevillian.
The Hawkeyes were 7-of-10 from downtown in the game-changing third-quarter as Iowa outscored Minnesota 30-13 to lead, 68-61, heading into the fourth quarter.
Pushing the pace after defensive stops was a common theme for Iowa in the second half.
"We got stops to start the half," Clark said. "In the first half, (our defense) wasn't where we wanted it to be. We got stops, which leads to our fast break."
Iowa's transition offense totaled 18 fast-break points to Minnesota's six in the second half, as the Hawkeyes slowly wore down the Gophers. The Hawkeyes assisted on 15 of 20 made field goals and outrebounded Minnesota by 12 in the second half.
Iowa's closer was junior center Monika Czinano, who scored 10 of her 19 points in the fourth as Iowa finished off another comeback victory at home.
CLARK'S CAREER-HIGH
Clark's fourth career 30-point game in her young career resulted in a career-high 37 points on an efficient night. The freshman from West Des Moines, Iowa, was 12-of-19 from the floor, 5-of-9 from long distance, and 9-of-10 from the free throw line.
"Oh, boy," Bluder said when asked about Clark's career night. "In her four-year career, I'm going to run out of adjectives to describe her. That was spectacular. When she feels it, those deep 3s are no problem. She has such great confidence and I love that confidence."
Clark added 11 rebounds – for her second career double-double – and five assists in one of her most complete games as a Hawkeye.
"She's not a one-dimensional player at all," Bluder added.
OF NOTE
Iowa's 42-game home-winning streak trails only Baylor (61) for longest in the country. The longest home-winning streak in school history sits at 46 games.
Czinano has reached double figures in nine straight games this season and 17 straight since last season.
UP NEXT
Iowa travels to Evanston, Illinois, to face No. 22/23 Northwestern inside Welsh-Ryan Arena on Saturday at 6 p.m. (CT). The game will be televised on Big Ten Network.