By SHANE STURTZ
hawkeyesports.com
EVANSTON, Ill. – The University of Iowa women's basketball team (8-2, 4-2) had its four game-winning streak snapped in a 77-67 loss to No. 22/23 Northwestern (6-2, 4-2) on Saturday evening inside Welsh-Ryan Arena.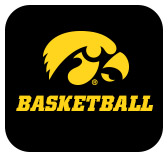 Junior Monika Czinano scored a career-high 28 points and pulled down 12 rebounds for her first double-double of the season. The Watertown, Minnesota, native was 13-of-14 from the field, made her first 10 shots, and scored 18 first-half points.
"Coming into this game, we knew we could attack the inside," Czinano said. "That was our game plan. My teammates found me; they found the open looks."
The game was all square, 36-36, at halftime, but 18 turnovers and two second-half scoring droughts doomed the Hawkeyes.
Northwestern, who entered the game leading the nation in turnover margin and assist-to-turnover ratio, scored 28 points off Iowa's miscues.
"They did a good job pressuring the ball," head coach Lisa Bluder said. "When they're in that zone, they do a good job of knowing the help side is behind them. Every time we drove, they clogged up the paint. We didn't make as many good passing decisions as we normally do."
A one-possession game for most of the third, Iowa failed to make a field goal in the final 2:43 of the third quarter, allowing Northwestern to go on a 9-0 run and lead 62-50 heading to the fourth.
Iowa tried to make a run of it, opening the final frame with five quick points.
Czinano knocked down a pair of free throws, and sophomore McKenna Warnock converted an old-fashioned three-point play as Northwestern's lead shrank to seven points, 62-55, with 8:24 left to play.
Sophomore Gabbie Marshall drained her team-high third 3-pointer with seven minutes left to play and the deficit shrank to six points (66-60). But that's all the closer Iowa could get.
After a three-minute scoring drought, Iowa's deficit swelled to 14 points – its largest of the game – and the Hawkeyes trailed, 75-61, with 1:32 remaining.
Czinano notched her career-high 28th point with 37 seconds left, but it wasn't enough as Iowa dropped its second Big Ten road game of the season.
OF NOTE
Both of Iowa's losses have been on the road this season.
The Hawkeyes tied a season-high 23 assists for the third straight game. Three Hawkeyes – freshman Caitlin Clark (8), redshirt sophomore Kate Martin (6), and McKenna Warnock (5) – had at least five assists.
Warnock pulled down a career-high 17 rebounds – the most by a Hawkeye this season and most since Czinano's 17 at Nebraska (Dec. 28, 2019).
Marshall was Iowa's second-leading scorer tonight (11) and reached double-figures for the fifth time this season.
UP NEXT
Iowa returns home to Carver-Hawkeye Arena for its next two games. The Hawkeyes will face Ohio State Wednesday, Jan. 14 at 3 p.m. (CT), followed by a matchup against Purdue on Jan. 18 at 3:30 p.m. (CT). Both games will be televised on Big Ten Network.