THIS WEEK
The 25th-ranked University of Iowa women's gymnastics team opens the 2021 season Friday in Minneapolis, facing 11th-ranked Minnesota at 3:30 p.m. (CT) at the Maturi Pavilion. The meet will be televised on BTN.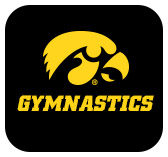 FOLLOW LIVE
• Friday's season opener will be televised on BTN with Dean Link (play-by-play) and Olivia Karas (color) on the call.
• Fans can follow along via live results.
WHAT YOU NEED TO KNOW
• The Hawkeyes are ranked 25th in the WGCA preseason poll. Iowa is one of nine Big Ten teams in the rankings or receiving votes.
• Iowa was selected to finish fourth in the Big Ten Preseason Poll.
• Iowa returns 12 letterwinners in 2021, including two gymnasts who have received All-Big Ten recognition in their careers. Junior Lauren Guerin was a first-team selection in 2020, while senior Clair Kaji garnered first-team honors in 2019 and second-team honors in 2017.
• Guerin posted a 9.950 on floor three times during the 2020 season. The score is tied for the third-best score in program history.
• Iowa closed out the 2020 season with its two highest scores prior to the season being canceled because of the global coronavirus pandemic. The Hawkeyes scored a 196.425 in an Iowa Corn Cy-Hawk Series victory over Iowa State on March 6 before scoring a season-high 196.750 two days later in a win over West Virginia.
• The Hawkeyes have seven newcomers on the roster, including Adeline Kenlin and Kendall Laplante. Kenlin was named to the 2017 Junior U.S National Team, where she helped lead the team to a gold medal, finishing fourth in the all-around. Laplante joined the team in December after graduating early from high school. She was a two-time Florida state beam champion, a vault champion, and a two-time national qualifier.
RETURNING ALL-AMERICAN
Junior Lauren Guerin ended her sophomore season as a second-team WGCA All-American. Guerin was the fifth Hawkeye to garner All-America distinction joining Stephanie Gran, Alexis Maday, Rebecca Simbhudas, and Mollie Drenth in Hawkeye history.
• Guerin has earned All-Big Ten honors (first-team in 2020; second-team in 2019) in each of her first two seasons.
2 NAMED TO B1G GYMNAST WATCH LIST
• Two Hawkeye underclassmen – sophomore JerQuavia Henderson and freshman Adeline Kenlin — have been named to the Big Ten Gymnast to Watch List. It is the second straight season Henderson has been included on the watch list.
• Henderson missed the 2020 season with an Achilles injury.
IN THE RECORD BOOKS
Three Hawkeyes enter the 2021 in the Iowa record books. They are as follows:
• Clair Kaji – t2nd – 9.950 – Beam
• Lauren Guerin – t3rd – 9.950 – Floor
• Allyson Steffensmeier – 6th – 9.925 – Uneven Bars
• Lauren Guerin – 9th – 9.925 – Vault
• Lauren Guerin – t11 – 9.925 – Floor
• Clair Kaji – t11 – 9.925 – Floor
• Clair Kaji – t14th – 9.900 – Beam
• Clair Kaji – t15th – 9.900 – Uneven Bars
HAWKEYE HOMECOMING
Following a four-year stint as an assistant coach at UC Davis, former Hawkeye Jessa Hansen Parker has returned to Iowa City as an assistant coach. Hansen Parker was a four-year letterwinner at Iowa from 2008-12 where she earned two All-Big Ten, three Academic All-Big Ten, and two Big Ten Sportsmanship Award honors.
19 & COUNTING
Head coach Larissa Libby has led GymHawks to 19 straight NCAA Regional appearances (either as a team or individually). The 2021 season is Libby's 17th as Iowa's head coach and 21st overall with the program.
FOLLOW THE HAWKEYES
For a behind the scenes look at the program, follow the GymHawks via social media at Facebook/IowaGymnastics, Twitter/@IowaGymnastics, and Instagram (@IowaGymnastics).
UP NEXT
The Hawkeyes will host Ohio State in their home opener on Jan. 23 at 7 p.m. (CT) inside Carver-Hawkeye Arena.