THIS WEEK
The University of Iowa women's swimming and diving team opens its season Saturday, hosting Nebraska at 1 p.m. (CT) at the Campus Recreation and Wellness Center.
The Hawkeye men will also compete in an intrasquad format after Wisconsin withdrew from the competition due to health and safety concerns with COVID-19 among the UW's rosters.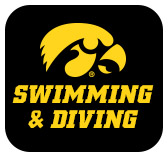 FOLLOW ALONG
• Saturday's dual will be streamed via BTN+, which is a paid subscription service.
• Live results will be available via Meet Mobile, Dive Meets, and through live results on hawkeyesports.com.
ORDER OF EVENTS
Iowa and Nebraska will compete in a standard 16-event dual on Saturday. The events are as follows: 200-medley relay, 1,000 free, 200 free, 100 back, 100 breast, 200 fly, 50 free, 1-meter diving, 200 back, 200 breast, 500 free, 100 fly, 3-meter diving, 200 IM, 400-free relay.
SENIOR RECOGNITION
The Hawkeyes will honor 14 student-athletes during their Senior Day festivities prior to the meet on Saturday. Iowa's seniors are: Mateusz Arndt, John Colin, Kelsey Drake, Anton Hoherz, Lexi Horner, Jayah Mathews, Sage Ohlensehlen, Claire Park, Thomas Pederson, Jonatan Posligua, Tom Schab, Sarah Schemmel, Daniel Swanepoel, and team manager Jonny Miller.
WHAT YOU NEED TO KNOW
• The Iowa men's team is ranked 25th in the preseason CSCAA poll.
• The Hawkeye men return three All-Americans in Daniel Swanepoel, Anze Fers Erzen, and Mohamed Neuman) and 19 letterwinners for the 2021 season.
• The Iowa women boast two returning All-Americans in Kelsey Drake and Sam Tamborski and 19 total letterwinners return.
• The men's team has its top returnees in 15 of 16 events in 2021.
MEN'S TOP RETURNEES
• Senior Daniel Swanepoel returns after earning All-America honors in the 200 breast. The Cape Town, Africa, native led the team in the 100 and 200 breast as a junior.
• Junior Anze Fers Erzen earned All-America distinction in the 200 back and he was an NCAA qualifier in three events — 200 back, 200 IM and 400 IM. He led the team in all three events.
• Sophomore Mohamed Neuman was an All-American off the 3-meter and platform as a freshman. He led the team in both events.
• Redshirt junior Aleksey Tarasenko was the team's top sprinter in 2020. He led the team in the 50 free, 100 free, and 200 free with NCAA "B" qualiying times in all three events. Tarasenko was also part of all three of the team-leading freestyle replays.
• Junior Mateusz Arndt led the team in the 500 free and 1,000 free, while junior Andrew Fierke led the team in the 1,650 free.
• Sophomore Ryan Purdy is back as the top 100 backstroker, while sophomore Sergey Kuznetsov is the top returner in the 100 fly.
WOMEN'S TOP RETURNEES
• Kelsey Drake returns after earning All-America honors in the 200 fly as a junior. Drake is the team's top returner in three events — 100 fly (1:55.89), 200 fly (1:55.41), and 200 IM (1:59.41). She was also a member of the team-leading 200 and 400-medley relays in 2020.
• Sam Tamborski earned All-America distinction off the 3-meter as a sophomore. The Colorado native is the team's top returnee on both the 1-meter (294.30) and 3-meter springboard (341.55).
• Sophomore Aleksandra Olesiak is the team's top returnee in the 100 breast (1:02.39) and 200 breast (2:13.92). She posted an NCAA "B" standard in the 200 breast.
FOLLOW ALONG
Follow the Iowa swimming and diving program on social media on Facebook/IowaSwimmingandDiving, Twitter/@IowaSwimDive, and Instagram/HawkeyeSwimDive.
UP NEXT
The Hawkeyes head to Evanston, Illinois, for a tri-meet on the weekend of Jan. 22-23. Iowa will face Northwestern and Penn State at the Norris Aquatics Center.