IOWA CITY, Iowa – The University of Iowa women's swimming and diving posted a 170-128 victory over Nebraska in their season opener Saturday at the Campus Recreation and Wellness Center. The Hawkeyes won 10 of the 16 events.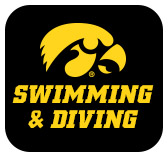 The Iowa men competed in an intrasquad meet after Wisconsin withdrew from the competition because of Covid concerns.
"The women took advantage of the opportunity, stepped up and had a great win today," said head coach Marc Long. "We want to keep moving forward and take advantage of every opportunity we have. Today we had an opportunity to race and they did a great job with it."
STRONG START
The Hawkeyes started of strong with a win in the first event of the afternoon in the 200-medley relay. The relay consisting of sophomore Kennedy Gilbertson, sophomore Aleksandra Olesiak, senior Kelsey Drake, and junior Lauren McDougall posted a winning time of 1:42.76.
It was the first of 10 event victories.
CONSISTENCY KILLS
Drake and Olesiak finished in the top two of all their events. Drake won the 100 fly (54.46), 200 IM (2:06.04) and was a part of the winning 200-medley relay. She also finished as the runner-up in the 200 fly (2:01.58).
Along with swimming the breast leg of the 200-medley relay, Olesiak swept the 100 and 200 breast events. She finished with times of 1:03.42 and 2:17.53, respectively.
UNDERCLASSMEN MAKE A SPLASH
The Hawkeye underclassmen had a great all around showing in the dual. Freshman Alyssa Graves won the 200 fly, edging Drake, with a time of 2:01.38 and she was second in the 500 free (4:52.13). Freshman Alexa Puccini had the best time of the day in the 200 IM (2:06.00), but she swimming the event as an exhibition.
Sophomores Julia Koluch (100 back, 200 back) and Gilbertson (200 medley relay, 400 free relay) both won multiple events.
INTRASQUAD SUCCESS
Junior Anze Fers Erzen won all three of his individual events –100 back (48.10), 200 back (1:44.12), and 200 IM (1:47.82). He also added a win the 200-medley relay swimming along with sophomores Will Myhre and Sergey Kuzentsov and junior Aleksey Tarasenko.
Tarasenko also was victorious in two individual events, sprinting to victories in the 50 (20.29) and 100 free (45.05).
UP NEXT
The Hawkeyes return to action next weekend, traveling to Evanston, Illinois, for a tri-meet against Northwestern and Penn State.