By JAMES ALLAN
hawkeyesports.com
EVANSTON, Ill. – The fifth-ranked University of Iowa men's basketball team moved into a tie for the Big Ten Conference lead with a 96-73 rout of Northwestern on Sunday afternoon at Welsh-Ryan Arena.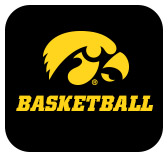 The win completes the Hawkeyes' sweep of the Wildcats this season and it is Iowa's fifth straight win, moving the team to 12-2 overall, 6-1 in the Big Ten. Iowa is atop the standings with Michigan.
"We've been saying it all season long — we want to win a Big Ten championship," junior Joe Wieskamp said. "We've put ourselves in a good position right now, but there's a lot of season left. We have to keep locking in and focusing on the next one."
Iowa built a 19-9 lead 6 ½ minutes into the contest before the Wildcats showed life, tying the game at 23 before taking a 29-28 lead at the 7:57 mark. The Hawkeyes' defense responded, forcing eight straight Wildcat misses to ignite a 13-0 run.
"If you're going to win, you have to get stops in a row," head coach Fran McCaffery said. "You have to guard them. To be able to get some consecutive stops, gave us an opportunity to run and get to the free throw line."
After Luka Garza's layup gave Iowa a 30-29 lead, Iowa's reserves were the catalyst. Redshirt sophomore Jack Nunge followed with a jumper and 3-pointer, Murray and CJ Fredrick followed with layups and Nunge ended the run with two free throws for his sixth and seventh points to push the lead to 41-29.
The Hawkeyes led 49-37 at the half after shooting 61.3 percent from the floor. Garza scored all 17 of his points in the first half. He posted a double-double for the game, making 7-of-12 field goals and grabbing 10 rebounds in 24 minutes.
Iowa kept its foot on the gas in the second half, pushing its lead to 23 on 3-pointers by Fredrick, Jordan Bohannon, and Joe Wieskamp. The Hawkeyes, which outscored Northwestern 68-44 over the final 28 minutes, led by as many as 29 points in the win.
Garza led a group of five Hawkeyes in double figures with his 17 points. Wieskamp scored 16 points on 6-of-10 shooting with two 3 pointers, Fredrick had 13 points with three 3s, Nunge scored 12 points, and Bohannon had 11 with three 3s.
The Hawkeyes shot a blistering 57.9 percent and made 10 3-pointers. Iowa dominated the action on the glass, 40-27, and assisted on 22 of its 33 field goals. Defensively, Iowa limited Northwestern to 41.5 percent shooting.
Pete Nance led the Wildcats with 16 points and nine rebounds.
QUOTING HEAD COACH FRAN MCCAFFERY
"We're getting really good play from our veteran guys as you would expect. But we're getting great play from our young guys off the bench. That's an example of our depth. That is absolutely critical in this league and on the road."
"It's what's makes this team different. Regardless of what lineup is out there, those guys are producing. A lot of time you go to your bench and guys are effective, but you don't always get offense."
OF NOTE
• Iowa has won five straight games, dating back to Dec. 29, with three of the five victories coming on the road (Rutgers, Maryland, Northwestern).
• Iowa's 96 points today are the most scored in Evanston in 34 years. (103 in 1987)
• The Hawkeyes have won 13 of the last 16 meetings against Northwestern, including six straight.
• All-American Luka Garza totaled 17 points, 10 rebounds, and two blocked shots in only 24 minutes of action for his sixth double-double of the season and 26th of his career.
• Iowa, who leads the Big Ten in 3-point shooting, sank 10 triples today, including three by Jordan Bohannon. The Hawkeyes improved to 9-0 this season when Bohannon makes multiple 3-pointers. Bohannon finished today's contest with 11 points, the fifth consecutive contest in double figures for the redshirt senior.
• Redshirt sophomore Jack Nunge registered 12 points today, his highest point total since Dec. 11 against Iowa State (17 points).
• The Hawkeyes recorded their 19th scoring run of 10-0 or better this season with a 13-0 scoring surge in the first half.
UP NEXT
The Hawkeyes return to action Thursday, hosting Indiana at 8 p.m. (CT) on Mediacom Court inside Carver-Hawkeye Arena. The game will be televised on FS1.