IOWA CITY, Iowa — The University of Iowa men's and women's swimming and diving teams have been named a College Swimming and Diving Coaches Association of America Scholar All-America team, it was announced Tuesday by the CSCAA.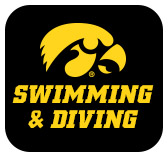 More than 450 schools received the award for the fall 2020 semester. The Hawkeye women's team posted a 3.46 grade point average, while the Iowa men had a 3.06 GPA.
The Iowa women's team has received the award 17 straight years.
The Hawkeyes return to action Jan. 22-23, traveling to Evanston, Illinois, for a tri-meet with Northwestern and Penn State.