THIS WEEK
The ninth-ranked University of Iowa women's gymnastics team hosts 13th-ranked Ohio State in its home opener Saturday at 7 p.m. (CT) at Carver-Hawkeye Arena. The competition will be Iowa's annual Pink Meet. Due to the pandemic, there will be no general admittance to this meet.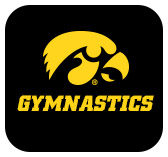 FOLLOW LIVE
• Saturday's meet will be televised on BTN+.
• Fans can follow along via live results at hawkeyesports.com.
WHAT YOU NEED TO KNOW
• The Hawkeyes catapulted up the rankings, moving from 25th in the preseason poll to ninth in this week's Road to Nationals rankings. Iowa has the second best floor score nationally, while ranking ninth on beam, 15th on vault, and 16th on bars.
• Iowa has three gymnasts ranking in the top 10 on floor early in the season. Junior Lauren Guerin is tied for third (9.950), senior Clair Kaji is tied for eighth (9.925) and junor Alex Greenwald is tied for 10th (9.900).
• Guerin was named the Big Ten Specialist of the Week for the second time in her career after sharing the floor title in the season-opening meet at No. 11 Minnesota. Guerin posted a 9.950 to tie a career high for the fourth time .
• Iowa scored 48.95 or higher in all four events against the Gophers.
HAWKEYE NOTABLES
• Junior Lauren Guerin posted a 9.950 on floor at Minnesota to tie a career best for a fourth time as a Hawkeye.
• Junior Bridget Kilian tied a career best on the beam with a 9.850 and posted a 9.850 on vault to tie for the team high at Minnesota.
• Senior Clair Kaji tied a career high at Minnesota on floor with a 9.925.
WHAT A START
The Hawkeyes posted a 196.40 in their season-opener at No. 11 Minnesota on Jan. 15. The score is the highest for the program in a season opener the Larissa Libby tenure (and the highest score by a Libby team in January). It is also the highest opening score since 1998 and is believed to be the best score in a season opener in program history.
• The score is one that hasn't been achieved until the seventh meet of the season in the Libby era.
• It ties for the 10th highest score during the Libby era.
UNDERCLASSMEN SUCCESS
• Freshman Adeline Kenlin had a strong debut, tying for third on bars (9.875) and fourth on the beam (9.825)
• Freshman Aubrey Nick scored a 9.775 on beam and freshman Kendall Laplante, an early high school graduate from Seminole, Florida, posted a 9.750 on the vault.
HENDERSON IS BACK
• After an injury shortened her 2020 season, sophomore JerQuavia Henderson made a triumphant return on Jan. 15 at Minnesota. The Peoria, Illinois, tied for third on vault with a 9.850 and she posted a 9.775 on bars and 9.825 on floor.
IN THE RECORD BOOKS
Three Hawkeyes enter the 2021 in the Iowa record books. They are as follows:
• Clair Kaji – t2nd – 9.950 – Beam
• Lauren Guerin – t3rd – 9.950 – Floor
• Allyson Steffensmeier – 6th – 9.925 – Uneven Bars
• Lauren Guerin – 9th – 9.925 – Vault
• Lauren Guerin – t11 – 9.925 – Floor
• Clair Kaji – t11 – 9.925 – Floor
• Clair Kaji – t14th – 9.900 – Beam
• Clair Kaji – t15th – 9.900 – Uneven Bars
HAWKEYE HOMECOMING
Following a four-year stint as an assistant coach at UC Davis, former Hawkeye Jessa Hansen Parker has returned to Iowa City as an assistant coach. Hansen Parker was a four-year letterwinner at Iowa from 2008-12 where she earned two All-Big Ten, three Academic All-Big Ten, and two Big Ten Sportsmanship Award honors.
19 & COUNTING
Head coach Larissa Libby has led GymHawks to 19 straight NCAA Regional appearances (either as a team or individually). The 2021 season is Libby's 17th as Iowa's head coach and 21st overall with the program.
FOLLOW THE HAWKEYES
For a behind the scenes look at the program, follow the GymHawks via social media at Facebook/IowaGymnastics, Twitter/@IowaGymnastics, and Instagram (@IowaGymnastics) .
UP NEXT
The Hawkeyes will head to Champaign, Illinois, for Week 3. The time and date of the meet against Illinois is still TBA.