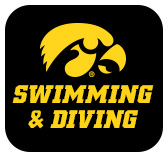 EVANSTON, Ill. – Freshman Alyssa Graves won the 1,000 freestyle to highlight the University of Iowa swimming and diving team's day one of its tri-meet against Northwestern and Penn State at the Norris Aquatics Center.
GRAVES AT IT AGAIN
Graves burst onto the scene with an impressive time of 9:55.59 last week at the season opener against Nebraska, swimming the second- fastest women's 1,000 freestyle in school history. She just did it again Friday, trimming more than seven seconds off her time to touch in 9:48.33 to win the event.
A TIE FOR THE HAWKEYES
In the first event of the day the women's 200-yard medley relay of sophomore Julia Koluch, sophomore Alexsandra Olesiak, senior Kelsey Drake, junior Lauren McDougall tied for fourth in 1:42.12.  The time swam is a half second improvement from last week against Nebraska.
STRONG START FROM THE MEN
The men started out big with a second and third place finish in the 200-yard medley relay with the relay of junior Anze Fers Erzen, sophomore Will Myhre, sophomore Sergey Kuznetsov, and junior Aleksey Tarasenko swimming a time of 1:26.63. The third-place relay of sophomore Ryan Purdy, senior Daniel Swanepoel, freshman Seth Miller, and freshman Drew Hawthorne posted a 1:28.45 to place third.
DIVING PROVES STRENGTH
In the women's 3-meter diving, the Hawkeyes' Sam Tambroski was the runner-up (298.25), while freshman Sarah Ballard finished eighth (254.35).  Ballard placed third in the 1-meter diving (249.40), while Tambroski was 11th (224.75).
On the men's side, senior Jonatan Posligua placed fifth off the 3-meter and sixth off the 1-meter (251.95), while returning All-American Mohamed Neuman was sixth off the 3-meter (268.05) and fifth off the 1-meter (253.00).
MEN'S TEAM STANDINGS
Iowa 42, Penn State 32
Northwestern 59, Iowa 15
WOMEN'S TEAM STANDINGS
Iowa 38, Penn State 36
Northwestern 53, Iowa 21
Action resumes Saturday beginning at 10 a.m. (CT).