By JAMES ALLAN
hawkeyesports.com
IOWA CITY, Iowa – Indiana held the fourth-ranked University of Iowa men's basketball team to a season-low 69 points in an 81-69 victory Thursday night on Mediacom Court inside Carver-Hawkeye Arena.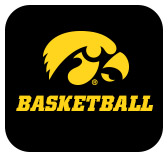 Iowa led 53-44 with 12 minutes to play before the Hoosiers blitzed the Hawkeyes. Indiana reeled off nine straight points to tie the game at 53. The run continued to the tune of 18-2 and 23-3, turning the nine-point deficit into a 67-56 lead.
The Hoosiers' defense held Iowa without a field goal for an 11-minute stretch in the second half and outscored the Hawkeyes, 37-16, over the final 12 minutes.
"They were sending a lot of heat toward me and I didn't do a good enough job dealing with the double team in the second half," said senior Luka Garza. "In the first half, I was able to survey it, get a couple of assists and get open shots for our guys.
"In the second half, I can't turn it over that many times. I am better than that, have been better than that and will be better than that. That's upsetting for myself."
Garza and junior Joe Wieskamp both posted double-doubles in the loss. Garza finished with 28 points on 10-of-28 shooting and grabbed 12 rebounds, while Wieskamp finished with 16 points and 12 boards. Fifteen of Wieskamp's 16 points came in the first half.
"They did a good job in the second half trying to take everything away from me," said Wieskamp. "When I caught the ball, they were up in my space and when I tried to drive there were guys in the gaps, closing out on my shot. I tried to be aggressive, but they did a great job. I have to learn from that."
Indiana limited Iowa to a 38.1 field goal percentage and a 5-of-23 night from 3-point range. Indiana shot 49.1 percent, making 26-of-53 field goals and 8-of-17 3-pointers. Iowa was +14 on the glass (46-32).
Iowa led 37-31 at the break behind the Garza-Wieskamp duo. The pair combined for 30 of Iowa's 37 points.
Four Hoosiers reached double digits in the game with Trace Jackson-Davis leading the way with 23 points on 9-of-14 shooting.
QUOTING HEAD COACH FRAN MCCAFFERY
"A lot of times when you lose it's like, we were horrible at everything. We weren't. We did some things well. We executed well at times. We were up at half, but I think we had a few too many uncharacteristic turnovers. I think 12 is too many for us. That number has to go down, so we got to take better care of the ball.
"We did out-rebound them, so that means we fought on the glass. That's good, but our slides in the zone weren't good. Our man-to-man early wasn't good. Our press was fair.
"There were times when we executed really well and got good shots and sometimes the ball doesn't go in and that happens, but there were times when we didn't execute, and primarily in our motion offense in the second half we didn't execute well at all."
FREDRICK MISSES SECOND HALF
Redshirt sophomore CJ Fredrick was unavailable the second half with a lower leg injury.
"CJ is a huge loss, he's such a presence on the floor," said Wieskamp. "He's a guy that is such a good shooter and a playmaker. He's looking for guys. When he was out, it allowed guys to sag in more and be in the gaps because they weren't worried about our shooters because he's such a knock down shooter."
OF NOTE
• Tonight was Iowa's first setback since Dec. 25, snapping a five-game winning streak.
• Iowa had two players post double-doubles tonight: Luka Garza (28 points, 12 rebounds) and Joe Wieskamp (16 points, 12 rebounds). Garza registered his team-leading seventh double-double of the season and 27th of his career. Wieskamp recorded his first double-double of the season and fifth of his career.
UP NEXT
Iowa returns to action on Friday, Jan. 29 at Illinois. Tipoff is set for 8 p.m. (CT) at the State Farm Center in Champaign, Illinois.