THIS WEEK
The University of Iowa men's gymnastics team opens its season Saturday, traveling to Minneapolis to face Minnesota at 6 p.m. (CT) inside Maturi Pavilion.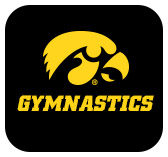 FOLLOW LIVE
• Saturday's meet will be televised on BTN+.
• Fans can follow along via live results at hawkeyesports.com.
WHAT YOU NEED TO KNOW
• The Hawkeyes finished the pandemic-shortened 2020 season ranked No. 9 nationally.
• Iowa was ranked sixth on floor, ninth on pommel horse, 10th on rings, sixth on vault, seventh on parallel bars, and sixth on high bar.
• The 2021 season will be the final season for the Iowa men's gymnastics program. It was announced in August that the program would be discontinued because of the financial implications of the global coronavirus pandemic.
HAWKEYE NOTABLES
• Senior Bennet Huang ended the 2020 season ranked fourth in the NCAA. He had a season-high all-around score of 81.300 and an average score of 80.121.
• Evan Davis ended the season ranked eighth in the NCAA. Davis had a season-high score of 81.950 and an average score of 79.950 in the all-around.
HUANG, BROWN NAMED B1G GYMNASTS TO WATCH
Two University of Iowa gymnastics, Bennet Huang and Stewart Brown, were named Big Ten Gymnasts to Watch.
• Huang enters his senior season after qualifying for the Winter Cup as a junior where he finished 27th in the all-around. Huang has competed in all six events each of his first three years in Iowa City.
• Brown begins his junior campaign looking to build on his postseason success with the parallel bars in 2019. Brown competed in five events as a sophomore before the global coronavirus pandemic prematurely ended the 2020 season.
RETURNING ALL-AMERICAN
With no NCAA Championships being contested in 2020, junior Stewart Brown is technically a returning All-American. He earned the distinction on parallel bars, posting a 13.800 to place seventh at the 2019 NCAA championships.
NEW HAWKEYES
• The Hawkeyes have three new gymnasts on their roster for the 2021 season in James Friedman, Mikey Kogan, and Zac Tiderman.
• Friedman, a native of Salem, Oregon, was a two-time state and regional champion. He won the state title in 2019 with a score of 78, and helped his team to the state crown.
• Kogan, hailing from Hawthorn Woods, Illinois, was a state champion in all-around in 2019 while attending Adlai E. Stevenson High School. Kogan was a three-time National qualifier before missing his senior season due to injury.
• Tiderman, who attended Wilsonville High School in Wilsonville, Oregon, had sophomore and junior seasons that both resulted in individual and team state championships. Tiderman also qualified to the Elite Team Cup both of those years, but missed his senior season because of injury.
FOLLOW THE HAWKEYES
Fans can follow the Iowa men's gymnastics program on social media on Instagram (@iowamgym) with live updates on Twitter (@mensgymiowa) and via Facebook (iowamensgymnastics).
NEXT UP
The Hawkeyes will host Illinois on Feb. 13 at 6 p.m. (CT) in their home opener inside Carver-Hawkeye Arena.