CHAMPAIGN, Ill. — The ninth-ranked University of Iowa women's gymnastics team captured a Big Ten road victory, downing No. 18 Illinois, 196.325-195.600, on Sunday afternoon inside Huff Hall. The Hawkeyes won three out of the four events and claimed the all-around title to put an end to the Fighting Illini's undefeated record.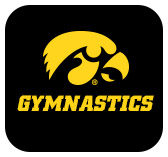 "I continued to be amazed b this team, not by what they are accomplishing, but the manner in which they are succeeding," said head coach Larissa Libby. "I love that they are finally being recognized for being a great team because they truly deserve it."
Iowa got individual wins from freshman Adeline Kenlin on beam posting a 9.900, senior Clair Kaji shared the win on floor (9.900) and sophomore JerQuavia Henderson shared floor title. Henderson also won the all-around with a 39.325. The GymHawks posted 49+ on all four events, including season-high scores on beam (49.125) and vault (49.025).
QUOTING HEAD COACH LARISSA LIBBY
"Today was tough, physically and mentally. There were a lot of changes for the team heading into today's competition.  School was added to the equation, conditioning changed and we had additional days of training. It has been a lot and today was tough.
"Despite how they felt, once again, they found a way to get the job done. One of those was adding Q to all-around.  I am thrilled for her. Her first season after an injury, she rocked today. She had a great day on all four events and I still believe she can be even stronger.
"This was the final step she needed to make her return from the injury. I couldn't be happier for her."
VAULT
Iowa set a season-high vault score posting a 49.025, with Henderson tying for first with a 9.850. The sophomore from Peoria, Illinois, tied her career best. Junior Lauren Guerin, Kenlin and junior Bridget Killian all tied for third, posting a 9.825. Kenlin posted a career-high.
BARS
There was two three ways for both first place and fourth place with the Hawkeyes posting an overall score of 49.025. Junior Alex Greenwald tied for first place with a 9.850, tying her season best. Henderson and Kenlin tied for fourth place posting 9.825s. Senior Erin Castle followed with a 9.800.
BEAM
Iowa posted a 49.125 on beam setting a season best. Kenlin set a career-best, posting a 9.900 to take the top spot. Kaji was runner-up with a season-best 9.875. Henderson made her season debut and posted a 9.825, while Mackenzie Vance posted a 9.800.
FLOOR
The GymHawks, who are No.1 nationally on floor, posted 49.150 with Kaji tying for first place for a second consecutive meet with a 9.900. Greenwald came in fourth place with a 9.850, while Henderson followed with a 9.825.
ALL AROUND
Henderson is the first Iowa gymnast to post an all around score this season. The sophomore posted a 39.325 in her collegiate all-around debut.
UP NEXT
The Hawkeyes return to action on Feb. 6, hosting Minnesota inside Carver-Hawkeye Arena at 3 p.m. (CT). The meet will be televised live on ESPNU.