MINNEAPOLIS – The University of Iowa men's swimming and diving team dropped a tight dual against Minnesota, falling 153-147 on Saturday at the Jean K. Freeman Aquatics Center. The Hawkeye women also lost to Minnesota, 192-107.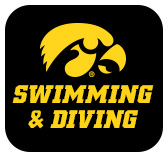 FERS ERZEN WINS THEM ALL
Junior Anze Fers Erzen took home wins in all his events on the day. He and his relay (Fers Erzen, Will Myhre, Sergey Kuznetsov, and Aleksey Tarasenko) started the day off strong with a win in the 200 yard medley relay (1:26.66). Fers Erzen followed it up with three individual wins in the 100 back (47.93), 200 back (1:44.35), and 200 IM (1:46.80).
SOLID PERFORMANCE IN CLOSE BATTLE
The Hawkeyes took eight of the 12 individual and won both the 200-medley relay and 200-free relay.
JUMP DOESN'T MISS A BEAT
Sophomore Mallory Jump performed well in her season debut, winning 100 fly in 53.05. It is Jump's first B-cut time of the year.  She won the event by more than a second.
LADIES PLACE STRONG
The lady Hawkeyes had 2 events with second and third places finishes (200 fly and 500 free). Freshman Alyssa Graves who received third in the 500 free (4:51.73) and third in the 200 fly (2:00.25). the other two were senior Kelsey Drake placing second in the 200 fly (1:59.69), and sophomore Macy Rink placing second in the 500 free (4:51.40).
UP NEXT
Iowa returns to action Feb 24-27, traveling to West Lafayette, Indiana, for the Big Ten Diving Championships. The women's Big Ten Swimming Championships will be held in Minneapolis, while the location of the Big Ten Men's Swimming Championships is still to be determined.  It will take place from March 3-6.