THIS WEEK
The University of Iowa men's gymnastics team will host No. 4 Illinois in its home opener Saturday at 6 p.m. (CT) inside Carver-Hawkeye Arena. Due to the coronavirus pandemic, there will be no general admittance to the meet.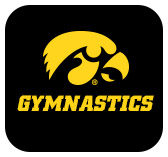 FOLLOW LIVE
Saturday's meet will be televised on BTN+.
Fans can follow along via live results at hawkeyesports.com.
WHAT YOU NEED TO KNOW
The Hawkeyes were ranked fifth following their season-opening victory at No. 8 Minnesota, but the Road to Nationals rankings has dropped men's teams that haven't competed in three meets this season. The Hawkeyes will have to wait until Feb. 22 to be featured.
Iowa currently holds the seventh highest all-around meet score in the country with their 393.650 Jan. 30 in Minneapolis.
Senior Bennet Huang was named Big Ten Gymnast of the Week on Feb. 1 after his all-around winning score of 80.450. This was Huang's fourth career Big Ten honor.
Huang and junior Stewart Brown were named Big Ten Gymnasts to Watch for the 2021 season.
Iowa's team captains for the 2021 season are Bennet Huang, Evan Davis, and Peyton Hobson.
The 2021 season will be the final season for the Iowa men's gymnastics program. It was announced in August that the program would be discontinued because of the financial implications of the global coronavirus pandemic.
HAWKEYE NOTABLES
Iowa won five of the six events in its dominating win at Minnesota. Stewart Brown and Bennet Huang shared the title on floor, Evan Davis won on rings, Iowa went 1-2-3 on vault with Amari Sewell getting the win, and Carter Tope was first on parallel bars.
Junior Evan Davis finished second in all-around with a score of 78.000 behind teammate Bennet Huang.
Junior Stewart Brown posted three career bests against the Gophers.
PERSONAL RECORD BOOKS
A total of 10 career bests were set Jan. 30 by seven different gymnasts.
Stewart Brown – Floor: 14.100, Rings: 13.150, Horizontal: 13.100
Evan Davis – Rings: 13.850
Drew Helberg – Pommel: 11.750
Peyton Hobson – Rings: 13.000, Parallel: 12.1000
Amari Sewell – Floor: 12.850
Kulani Taylor – Vault: 14.350
Carter Tope – Parallel: 13.900
FRESHMAN SUCCESS
The Hawkeyes three freshman (James Friedman, Mikey Kogan, and Zac Tiderman) all competed in their first college meet Jan. 30.
Friedman finished sixth on floor posting a 13.000 and his 13.500 on the rings was good for a tie for second.
Kogan competed on the vault and registered a 12th place finish with a score of 12.800
Tiderman found himelf in three events in Minneapolis where he recorded a 13.400 on rings, 12.500 on the parallel bars, and 12.000 on the horizontal bar. Those scores were good for fourth, eighth, and ninth.
FOLLOW THE HAWKEYES
Fans can follow the Iowa men's gymnastics program on social media on Instagram (@iowamgym) with live updates on Twitter (@mensgymiowa) and via Facebook (iowamensgymnastics).
NEXT UP
The Hawkeyes will host Penn State on Feb. 20 at 6 p.m. (CT) inside Carver-Hawkeye Arena.