MINNEAPOLIS – The University of Iowa women's swimming team swam top 10 times in program history on the opening day of the Big Ten Championships at the Jean K. Freeman Aquatics Center.
The Hawkeyes are in eighth place with 84 points following the first two events of the championships. Ohio State leads the way with 112 points.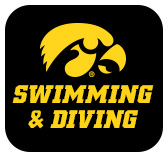 Iowa opened competition with an eighth-place finish in the 200 medley-relay. The underclassmen relay, consisting of sophomore Julia Koluch, sophomore Aleksandra Olesiak, sophomore Mallory Jump, and freshman Madison Black finished with a time 1:40.22 – nearly a full two second improvement from the best time of the year.
The time is the sixth-fastest in school history.
In the second and final event of the night, Iowa tallied a ninth-place finish in the 800-free relay. The quartet of sophomore Macy Rink, junior Lauren McDougall, sophomore Kennedy Gilbertson, and freshman Alyssa Graves finished with a time of 7:15.89, which ranks ninth all-time in the Iowa record books.
Rink's lead leg of 1:46.99 was a career-best and improved her to fifth-place time in school history.
TIME TRIALS
The Hawkeyes also swam several time trials on the night, posting three career bests by Georgia Clark (200 IM; 2:06.32), Anna Brooker (100 back; 55.98), and Alexa Puccini (200 back, 1:59.60). Senior Kelsey Drake also swam a season-best time of 1:57.42 in the 200 fly, which is an NCAA "B" qualifying time.
UP NEXT
Tomorrow's events will begin at 11 a.m. (CT) and consists of the 200 IM, 50 free, 500 free, and 400-medley relay. The finals will begin at 6:30 p.m. (CT).