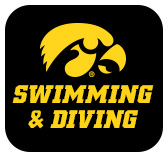 MINNEAPOLIS – Sophomore Mallory Jump swam the second-fastest time in school history in the 200-yard IM to highlight the University of Iowa women's swimming team's day on the second day of the Big Ten Swimming Championships at the Jean K. Freeman Aquatics Center.
The Hawkeyes sit in seventh place with 169 points following the second day of competition. Ohio State leads the way with 526 points.
Iowa's best finish of the day came in the final event, the 400-medley relay. The Hawkeye quartet of sophomore Julia Koluch, sophomore Aleksandra Olesiak, Jump, and senior Kelsey Drake finished with a time of 3:37.98 for a seventh-place podium finish. It was nearly a four second improvement from their season best and the sixth-fastest time in program history.
Koluch's leadoff leg of 54.73 in the 100 back was a season best.
Iowa's highest individual finish of the day came in the 200 IM with Jump finishing 10th with an NCAA "B" qualifying time of 1:58.93. The time ranks second in the Hawkeye record books. Iowa also got six team points from senior Kelsey Drake, who finished third in the "C" final and 19th overall in 1:59.47, also an NCAA "B" cut time.
Freshman Alyssa Graves notched a 14th place finish in the 500 freestyle, finishing with a time of 4:48.19 to earn 13 team points. Graves swam a career-best time of 4:47.58 in the prelims, which is the sixth-fastest time in school history.
The Hawkeyes also got a 22nd-place finish from sophomore Macy Rink in the 500 free in 4:50.84. Rink swam a career-best 4:50.61 in the prelims.
UP NEXT
Tomorrow's events will begin at 11 a.m. (CT) and consists of the 100 fly, 400 IM, and 200 free. The finals will begin at 6:30 p.m. (CT).