By DARREN MILLER
hawkeyesports.com
GENEVA, Ohio — When he touched sand after a sixth and final attempt in the men's long jump Thursday, University of Iowa junior James Carter sparked a celebration inside SPIRE Institute that seemingly lasted 25 minutes, 1.25 seconds.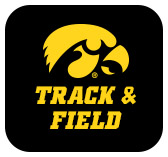 Carter's clutch career-best effort of 25-feet, 1 1/4-inches (7.65 meters) not only sent him to the top of the Big Ten Conference long jump podium, but it set off an extended reaction of yells, hugs and high fives among Hawkeye coaches and student-athletes. Carter picked a perfect time to ignite a flurry of madness. While the men were wrapping up the first of three days of competition at the Big Ten Indoor Track and Field Championships, the women were trickling into the venue to warm up for their opening session.
Before his final attempt, all eyes were on Carter, who placed fifth in the long jump at the 2020 Big Ten Indoor Championships. He flew higher this time.
"It felt better than I imagined," Carter said. "It was a great feeling, especially being swarmed by my teammates. I was doing it for myself, but I was also doing it for them. To know I made them proud and I made my family proud is a great feeling."
Carter, a native of Oak Creek, Wisconsin, entered the weekend with a long jump best of 24-7, set last January when he was third at a competition in Kentucky. His top mark this season was the 22-11 ¼ from two weeks ago at the Hawkeye B1G Invitational in the University of Iowa Recreation Building. Among the 21 other competitors in Thursday's long jump competition, Carter's seed mark ranked 16th. In other words, a long, long sand pit from scoring points, let alone earning a medal.
"We came here with a plan to dominate in that event. We executed."

James Carter
Twice this season Carter was quarantined because of the coronavirus. During an indoor season with its share of downs, he kept his focus and finished on top.
Iowa assistant coach Clive Roberts expected Carter to earn gold. Roberts, who coaches Hawkeye sprinters and horizontal jumpers, saw Carter building toward the conference championship.
"From a training standpoint, we knew he had it in him," Roberts said. "James is a big-time competitor, so it was expected."
Jumping fourth in the first flight, Carter fouled on his first attempt. He then advanced to the final with back-to-back leaps of 24-2 ½ and 24-3. Those quality efforts, although not personal bests, were enough to put Carter momentarily ahead of the field. He opened finals with a foul, and after four jumps, Carter slipped to third in the standings behind Clarence Foote-Tall of Ohio State and teammate Jamal Britt. Carter's fifth jump was 23-5 ¼, but Foote-Tall extended his lead with a jump of 24-8 ½, and teammate Deandre Stapleton landed 24-3 ¾ to bump him into fourth.
"It's the last jump, I have to make it count," Carter said. "I know I wasn't winning, and I came here with a goal to win. My teammates jumped well, and I wanted to back that up."
The performance by Carter was a highlight for a Hawkeye group that included five of the top nine long jumpers in the Big Ten. Britt finished with a bronze medal (24-5 ¾), Stapleton was fourth (24-3 ¾), Kaleba Jack was seventh (23-7 ½) and Austin West made the final and finished ninth (23-2 ¾). West passed on half his jumps to preserve his legs since he was simultaneously in a heated competition in the heptathlon.
"We came here and knew we used our wild card in the long jump," Roberts said. "Only 39 points can be scored and to be able to score 23 of those makes a big difference. You want to put doubt in everyone in the conference; when it comes to the horizontal jumps, the points are going to the University of Iowa."
The quartet of Carter, Britt, Stapleton and Jack secured four of the top seven positions — and points are at a premium as Iowa pursues its first outright indoor track and field team championships since 1929. The Hawkeyes shared the championship with Michigan in 1963 and were runners-up a year ago by 13 ½ points to Indiana. They know how valuable points are in a meet of this magnitude. They are so important, that when you find a way to uncover a few extra — like Iowa did in the long jump — it sets off a celebration.
"We came here with a plan to dominate in that event," Carter said. "We executed."