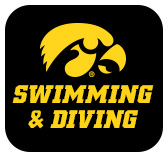 MINNEAPOLIS – Freshman Alyssa Graves led the way with the University of Iowa women's swimming and diving team's best performance of the day the Big Ten Swimming Championships at the Jean K. Freeman Aquatic center.
Graves qualified for the "A" final in the 200 fly with the third-fastest time in school history in 1:58.49, which gave her the sixth-fastest time in the prelims. She went on to finish sixth in the "A" final with a time of 1:57.99 – a time that ranks second all-time.
Senior Kelsey Drake joined Graves in the 200 fly finals, finishing in the top spot of the "B" final with a time of 1:58.11. Drake placed ninth overall.
The Hawkeyes had two pairs of "C" finalists in the 100 back and 100 breast. The first was the sophomore duo of Kennedy Gilbertson and Julia Koluch, who placed 18th and 22nd overall with times of 53.92 and 55.07 seconds.
The second sophomore duo was Mallory Jump and Aleksandra Olesiak, who placed 18th and 22nd with times of 1:01.49 and 1:02.08.
Gilbertson's time was a career-best and the fifth-fastest in school history in the 100 back. Jump and Olesiak moved a spot into the fifth and sixth-fastest times in program history.
The Hawkeyes closed out the night with an eighth place finish in the 200-free relay. The quartet of senior Sarah Schemmel, Drake, Gilbertson, and sophomore Macy Rink finished with a time of 1:31.10. The time ranks No. 3 in school history.
Iowa sits in eighth place with 354.5 points heading into the final day of competition. Ohio State leads the way with 1139.5 points.
SPORTSMANSHIP AWARD
Senior Lexi Horner is awarded the annual Big Ten Sportsmanship Award for the Iowa Hawkeyes.
UP NEXT
Saturday's events will begin at 11 a.m. (CT) and consists of the 100 free, 200 back, 1,650 free, and 200 breast. The finals will begin at 6:30 p.m. (CT), which will include the 400-free relay.