MINNEAPOLIS – Freshman Alyssa Graves led the way for the University of Iowa women's swimming and diving team, finishing in 11th in the 1,650 free on the final day of the Big Ten Swimming Championships at the Jean K. Freeman Aquatics Center.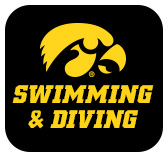 Graves finished with a time of 16:21.34, which gives her the second-fastest time in school history in the 1,650 free.
In the 200 breast and 200 back, the Hawkeyes were able to grab one spot in the "C" final for each event. In the 200 back, sophomore Anna Brooker finished 23rd in prelims with a more than six second drop from her best time on the season and improved that even more with a 1:57.70 final time to finish 20th. This gives her the eighth-best time in school history in the 200 back.
In the 200 breast, sophomore Aleksandra Olesiak grabbed the 21st-place in the prelims and she finished 24th in the finals with a 2:16.19 — a season-best.
In the 100 free, three Hawkeyes were able to clinch career-bests with sophomore Lauren McDougall (50.43), sophomore Ariel Wooden (52.50), freshman Madison Black (51.76).
In the women's 400 free-relay, the Hawkeyes placed 10th with the relay senior Sarah Schemmel, senior Kelsey Drake, junior Lauren McDougall, and sophomore Macy Rink finishing with a time of 3:20.76.
This is the ninth-fastest time in school history for the 400 free-relay.
Iowa finished eighth place with 424 points to conclude competition in Minneapolis. Ohio State won the Big Ten Championship with 1,584 points.
UP NEXT
Iowa will await bids for the NCAA Championships, which will be held March 17-20 in Greensboro, N.C.