By DARREN MILLER
hawkeyesports.com
GENEVA, Ohio — It's a win or go home world, but University of Iowa track and field student-athlete Alec Still changed that thinking, if only briefly, Feb. 27 at SPIRE Institute.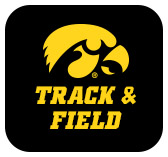 A relative unknown middle-distance runner outside his hometown of Moville, Iowa (population 1,800), Still's runner-up finish in the 800-meter run — and the effort he showed — was unanimously applauded as the spark Iowa used to win its first outright Big Ten Indoor Track and Field championship in 92 years.
It is assumed Still is one of those people Joey Woody, Iowa's director of track and field, refers to when saying many of the Hawkeye point contributors were, "Guys who were probably not recruited by any other program in the Big Ten."
What the rest of the Big Ten saw on the final day of competition was gold medal determination from Still, regardless of how sought after he was in the recruiting process. Still didn't win the 800-meter run, but his performance was significant. The eight team points he provided because of a photo-finish lunge at the proverbial tape went a long way in starting a snowball scoring effect that led to Iowa blowing out defending champion Indiana by 27 points.
Still's time of 1:50.91 was 0.01 seconds behind winner Domenic Perretta of Penn State.
"Typically I'm a guy who likes to go out and do the work by myself," Still said. "In this race I had a couple guys in front of me, so I tagged along, ran right behind them and it worked out in my favor. I was able to kick at the end."
"I wanted to beat two of them, I ended up beating all of them. That helped the team in a huge way."

Alec Still
Yes, he did. Still was in fourth place coming around the final turn, but he kept gaining and gaining until the dive. At the time, Ohio State appeared to be the biggest threat to Iowa's quest for a team championship. There were three Buckeyes in the eight-man 800 meters field, but they finished behind Still in third, fourth and fifth.
"I wanted to beat two of them," Still said. "I ended up beating all of them. That helped the team in a huge way.
"My goal was to get top three and I got second place. I didn't want to sell myself short, but it was an overall great day; I'm happy with how it turned out."
Still is a four-time qualifier but just a one-time Iowa state track and field champion, winning the Class 2A state title in the 800 in 2017 for Kingsley-Pierson/Woodbury Central. His winning time was 1:56.53. He set a college PR in the 800 in the Big Ten semifinal Friday, running 1:49.72 to place third in the second of three heats. Still entered the Big Ten Championships with the ninth-best seed mark.
"We pride ourselves on developing talent," Woody said. "Finding those diamonds in the rough, bringing them into our program and coaching them up. We're getting great athletes, but we're also developing athletes. That's what we're all about."
Powered by 10 top-three finishes, Iowa set a school record with 119 team points at the 2021 indoor championships — many of those points came after Still's motivational race. It's a victor's garland to lead the final break-down at every post-event team meeting; on Feb. 27, Woody awarded that honor to Still.
"When Alec got second, I was like 'Oh my gosh, this is what it is all about,'" Woody said. "Seeing that guy, a former walk-on, an Iowa kid, who believed in himself, the training, in coach (Jason) Wakenight and wanting to fight for the team. Seeing him get second and almost win that 800, that's when I felt really, really good about where we were (in the team race)."
When the sun rose the next day, it still illumined a win or go home world. As for Alec Still, he returned home to Iowa. With a silver medal and a team championship trophy.