THIS WEEK
The University of Iowa men's swimming team heads to Columbus, Ohio, for the 2021 Big Ten Swimming Championships from March 2-6 at the McCorkle Aquatic Pavilion.
Action begins at 4 p.m. (CT) Tuesday. Prelims and finals will start at 10 a.m. and 5:30 p.m. Wednesday through Saturday.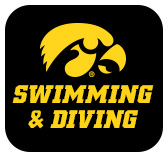 FOLLOW LIVE
• The Big Ten Swimming Championships will be streamed live on BTN+. Saturday's finals will be televised (tape delayed) on BTN.
• Live results will be on Meet Mobile and hawkeyesports.com.
• Fans can follow along on Twitter (@IowaSwimDive) for live updates.
SCHEDULE OF EVENTS
March 2 – 4 p.m. (CT) — 200-medley relay, 800-free relay
March 3 — 10 a.m. (CT) — Prelims/Finals — 200 IM, 50 free, 500 free, 400-medley relay (F)
March 4 — 10 a.m. (CT): Prelims/Finals — 100 fly, 400 IM, 200 free
March 5 — 10 a.m. (CT): Prelims/Finals — 100 back, 100 breast, 200 fly, 200-free relay (F)
March 6 — 10 a.m. (CT): Prelims/Finals – 1,650 free, 100 free, 200 back, 200 breast, 400-free relay (F)
B1G REVIEW
• The Hawkeyes finished sixth at the 2020 Big Ten Championships, finishing with 571 points. Iowa finished in the top eight in seven different events and the Hawkeyes had 24 top-24 finishes at the championships.
• Iowa's 800-free relay consisting of Aleksey Tarasenko, Mateusz Arndt, Michael Tenney, and Andrew Fierke placed fifth in 6:20.84, while Tenney also tallied a fifth place finish in the 200 fly (1:44.37).
• Iowa got sixth place showings from Tarasenko, Joe Myhre, Sergey Kuznetsov, and Will Scott in the 200-free relay (1:18.32), while Daniel Swanepoel was sixth in the 200 breast (1:53.53).
• Diver Mohamed Neuman placed seventh off platform (355.15), Tarasenko was eighth in 100 free (43.46) and the 200-medley relay of John Colin, Will Myhre, Kuznetsov, and Joe Myhre were eighth (1:25.75).
LAST TIME OUT
The Hawkeyes dropped a narrow, 153-147, dual at Minnesota on Feb. 6 in Minneapolis. Iowa won eight of the 12 individual events and both relays in the dual.
HAWKEYES IN SCORING POSITION
• Junior Mateusz Arndt enters the Big Ten Championships with the top time in the conference in the 500 free at 4:21.10. Arndt also is second in the 200 free (1:35.79) and 18th in the 100 free (44.73).
• Junior Anze Fers Erzen is second in the 400 IM (3:47.95), third in the 200 IM (1:46.80), fifth in the 200 back (1:44.12), and seventh in the 100 back (47.36).
• Sophomore Ryan Purdy also is eighth in 200 back (1:45.23) and 11th in 100 back (47.83).
• Sophomore Sergey Kuznetsov has the fourth-fastest 100 fly time (47.43), while also ranking 14th in 200 fly (1:48.66).
• Iowa has two student-athletes in the top nine in the breaststroke events. Sophomore Will Myhre is fourth in 100 breast (52.97) and seventh in 200 (1:58.06), while senior Daniel Swanepoel is sixth in 200 (1:57.56) and ninth in 100 (54.07).
• Junior Aleksey Tarasenko is fifth in the 100 free (43.54) and ninth in 50 free (19.97) and junior Andrew Fierke is eighth in both the 200 free (1:36.80) and 500 free (4:26.25) and sophomore Evan Holt is 21st in 200 free (1:38.86) and 24th in 500 free (4:31.18).
• Iowa also enters the championships ranking fourth in the 200-free relay (1:20.00), fifth in 400-free relay (2:56.63), and seventh in 200-medley relay (1:26.63). The Hawkeyes haven't swam a 400-medley or 800-free relay this season.
NCAA "B" CUTS
Iowa has posted 11 NCAA "B" qualifying standards by six different swimmers this season heading into the Big Ten meet. Iowa's swimmers with "B" cuts include: Aleksey Tarasenko (100 free), Mateusz Arndt (200 free, 500 free), Anze Fers Erzen (100 back, 200 back, 400 IM), Will Myhre (100 breast, 200 breast), Daniel Swanepoel (100 breast, 200 breast), and Sergey Kuznetsov (100 fly).
ON DECK
The Hawkeyes will send divers — both genders — to the NCAA Zone D Diving Championships from March 11-13 in Lexington, Kentucky.