IOWA CITY, Iowa – University of Iowa women's gymnast Adeline Kenlin was named the Co-Big Ten Freshman of the Week, it was announced by the league office. It is Kenlin's third weekly honor of the season.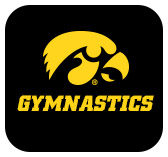 The Iowa City, Iowa, native earned the distinction after posting a pair of career-highs in helping the Hawkeyes to a Big Five Meet victory last weekend in Ann Arbor, Michigan. Iowa posted a 196.100 to record victories over No. 5 Michigan, No. 30 Penn State, and No. 43 Rutgers.
Kenlin posted her first career-high on bars, scoring a 9.900 to tie for fifth place, and her second career-best came on vault, where she had a 9.850 to tie for sixth. Kenlin also tied for eighth on beam with a 9.850.
The Hawkeyes are currently ranked 17th nationally with a 196.588 team national qualifying score. Iowa is second nationally (behind Florida) on floor, 14th on vault, 17th on beam, and 20th on bars. Kenlin ranks 15th nationally on the beam and 38th on bars.
Kenlin was previously named the Big Ten Freshman of the Week on Jan. 25 and Feb. 8. It is the seventh weekly honor of the season for the Hawkeyes (Lauren Guerin and Clair Kaji have earned two distinctions), which ties the program record for Big Ten weekly honors in a season, set in 2004.
Iowa closes out the home portion of its schedule Saturday, hosting Illinois at 1 p.m. (CT) inside Carver-Hawkeye Arena. The Hawkeyes will honor Erin Castle, Emma Hartzler, and Kaji for Senior Day.