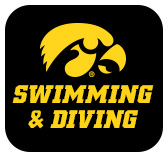 COLUMBUS, Ohio – The University of Iowa men's swimming team broke the school record in the 200 medley-relay on the opening day of the Big Ten Championships on Tuesday afternoon at the McCorkle Aquatic Pavilion.
The Hawkeyes posted a time of 1:25.06 – more than a second drop from their top time this season – to finish in sixth place. The relay consisted of junior Anze Fers Erzen, sophomore Will Myhre, sophomore Sergey Kuznetsov, and freshman Seth Miller. The time currently ranks 15th nationally and it breaks the school record of 1:25.53, which was set in 2015.
In the final event of the night, Iowa placed sixth in the 800-free relay. The squad of junior Mateusz Arndt, junior Andrew Fierke, sophomore Evan Holt, and junior Aleksey Tarasenko finished with a time of 6:22.56, which is the second-fastest time all-time in the Iowa record books.
The leadoff relay split by Arndt of 1:35.09 moves him up to fourth all-time in the 200 free record books.
The Hawkeyes are in ninth place with 114 points following the first two events of the championships. The diving points, which were accumulated last weekend in West Lafayette, Indiana, have already been added into the team totals. Ohio State leads the way with 433 points.
UP NEXT
Wednesday will begin at 10 a.m. (CT) and consists of the 200 IM, 50 free, 500 free, and 400-medley relay. The finals will begin at 5:30 p.m. (CT).