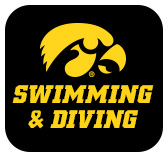 COLUMBUS, Ohio – Junior Anze Fers Erzen, who was a member of the record-setting 200 medley-relay last night, set two more University of Iowa men's swimming school records Wednesday at the Big Ten Championships at the McCorkle Aquatic Pavilion. Fers Erzen broke his own 200-IM time twice before being part of the record-breaking 400-medley relay.
Fers Erzen and sophomore Ryan Purdy grabbed two spots in the "B" final in the 200 IM with both swimmers posting NCAA "B" cuts in the event. Fers Erzen swam a time of 1:45.90 – to break his record the first time – before breaking the 1:45 barrier, finishing with a 1:44.86 to place 10th. Purdy, meanwhile, finished with a time of 1:45.94 to place 14th.
Purdy's time moved him into second place in the Iowa record books.
The Hawkeyes had two more competitors in the finals of the 50 free in junior Aleksey Tarasenko and freshman Seth Miller. Tarasenko placed 14th with a time of 19.76 seconds, while Miller was 22nd in 19.99 seconds. Miller join the under 20 club in fashion at the Big Ten Championships in his freshman campaign.
In the final individual event of the night, the trio of junior Mateusz Arndt, sophomore Evan Holt, and junior Andrew Fierke all competed in the "B" final. Arndt led the Hawkeyes with a 10th-place finish with a time of 4:19.01, then back-to-back was Holt in 13th-place (4:21.22) and Fierke in 14th-place (4:22.34).
Holt breaks into the record books grabbing the ninth spot with his time in the 500 free.
The Hawkeyes closed out Wednesday's competition in record-setting fashion in the 400-medley relay. The quartet of Fers Erzen, sophomore Will Myhre, sophomore Sergey Kuznetsov, and Tarasenko swam a time of 3:07.52 – an NCAA provision qualifying time. The time breaks the record of 3:07.83 that was set in 2016.
Iowa is in ninth place with 250 points following the first two days of the championships. Ohio State leads the way with 628 points.
UP NEXT
Thursday will begin at 10 a.m. (CT) and consists of the 100 fly, 400 IM, and 200 free. The finals will begin at 5:30 p.m. (CT).