IOWA CITY, Iowa – The University of Iowa women's gymnastics team has been crowned the Big Ten Conference regular season champion, it was announced Wednesday by the league office. The title is the first for the GymHawks in program history.
"I am so happy it happened to this team," said head coach Larissa Libby. "With everything that has gone on around the world with COVID and surrounding this season, I could not be more grateful that this team earned this championship.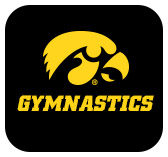 "If you want to be the best, you have to beat Michigan and we've chased them for so long. You have to have someone to chase and for me, that's Michigan. To beat them in their arena for the first time to clinch the title was incredible because their program is remarkable and they have pushed us to get to that level."
The GymHawks posted an undefeated 8-0 record during the Big Ten regular season, which culminated with a Big Five Meet victory in Ann Arbor, Michigan, on Feb. 27. Iowa downed No. 5 Michigan, No. 30 Penn State, and No. 43 Rutgers.
Iowa also posted league victories over No. 13 Ohio State, No. 18 Illinois, No. 11 Minnesota, No. 29 Maryland and No. 39 Nebraska during the regular season.
It is the latest accomplishment in a banner season for the Hawkeyes. Iowa achieved its highest national ranking in program history on Feb. 15, climbing to No. 7 in the Road to Nationals poll and the team has tied a school record with seven Big Ten weekly honors.
The Hawkeyes posted a 196.800 team score in the come-from-behind victory over the Gophers on Feb. 6 – the highest score under Libby, the fourth-best in program history, and the highest since 2004.
Iowa also set a program record on floor (49.600) in the Feb. 13 tri-meet against Minnesota and Maryland and sophomore JerQuavia Henderson broke the school individual floor record in the meet, scoring a 9.975 (which included one perfect 10.000).
The Hawkeyes are currently ranked 17th nationally with a 196.588 team national qualifying score. Iowa is second nationally (behind Florida) on floor, 14th on vault, 17th on beam, and 20th on bars.
Iowa closes out its home schedule Saturday, hosting No. 19 Illinois at 1 p.m. (CT) inside Carver-Hawkeye Arena. The Hawkeyes will honor seniors Erin Castle, Emma Hartzler, and Clair Kaji at the meet.