By SAM BASLER
hawkeyesports.com
BLOOMINGTON, Indiana – The University of Iowa women's basketball team fell to No. 10 Indiana, 89-80, on Wednesday afternoon in Assembly Hall.
It was a back-and-forth affair with 12 lead changes between the Hawkeyes and the nationally ranked Hoosiers.
The Hawkeyes w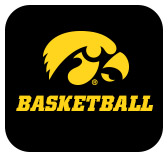 ere led by Freshman Caitlin Clark who scored 32 points and dished out five assists. Clark had 19 points while shooting 70 percent (7-of-10) from the field in the first half.
Junior Monika Czinano added 20 points and six rebounds for Iowa. It was her fifth 20-point game of the season.
"The second half we let up in our defense and our rebounding," said Czinano. "We needed to have a more aggressive mindset when it came to making contact on boxouts. Every aspect we needed to rev up a little bit."
The Hawkeyes trailed by two after the first quarter (15-17) but got things going in the second quarter, outscoring Indiana, 28-21.
Iowa finished the first half strong, making 11 of its last 12 field goals to take a five-point lead into the locker room (43-38).
Indiana was able to overcome that deficit in the third quarter, outscoring Iowa, 27-16. The Hoosiers took a 65-59 lead into the fourth quarter.
They Hawkeyes cut the lead to four following a Clark 3-pointer with 3:42 remaining in the game. However, Clark fouled out with 2:50 left in the game and the Indiana lead would prove insurmountable.
HEAR FROM P. SUE BECKWITH, MD, HEAD WOMEN'S BASKETBALL COACH LISA BLUDER
"I thought we did a good job defensively in the first half. In that third quarter they were putting their heads down and driving to the basket, and we did not have an answer for it. We gave up way too many offensive rebounds, they had 17 more shots than we did because of rebounds alone. They got to the free throw line 23 times to our 12 times. It is hard to win games, even when you shoot as well as we shot, when you give them 17 extra shots on the boards and shoot 11 less free throws."
OF NOTE
Freshman Caitlin Clark recorded her 10th 30-point game this season, knocking down 32 points. She added five assists, two rebounds, and a steal to her stat line. Clark became the first freshman in the 21st Century to register 10, 30-point performances in a season.
All eight Hawkeyes that played scored at least one bucket, including double figure scoring from Clark and Czinano.
UP NEXT
The Hawkeyes close the regular season, hosting Nebraska on Saturday, March 6 inside Carver-Hawkeye Arena. Iowa will honor seniors Alexis Sevillian and Zion Sanders following the game. Tipoff is set for 7 p.m. (CT) on BTN+.