THIS WEEK
The seventh-ranked University of Iowa men's gymnastics team hits the road, traveling to Ann Arbor, Michigan, to face No. 2 Michigan at noon (CT) inside the Crisler Center.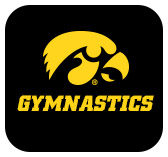 FOLLOW LIVE
Saturday's meet will be televised on BTN+.
Fans can follow along via live results at hawkeyesports.com.
WHAT YOU NEED TO KNOW
The Hawkeyes are 3-0 and ranked No. 7 in the country in the Road to Nationals rankings. Iowa ranks third nationally on parallel bars, fifth on high bar and rings, sixth on floor and vault, and seventh on pommelhorse.
Iowa sits tied atop the Big Ten standings with Michigan (2-0) after its undefeated start to the 2021 season. The Hawkeyes have knocked off No. 8 Minnesota, No. 4 Illinois, and No. 5 Penn State.
Twice this year a Hawkeye has been named Big Ten Gymnast of the Week. Senior Bennet Huang earned that distinction on Feb. 1, and junior Evan Davis held that title on Feb. 13.
Iowa's team captains for the 2021 season are Bennet Huang, Evan Davis, and Peyton Hobson.
The 2021 season will be the final season for the Iowa men's gymnastics program. It was announced in August that the program would be discontinued because of the financial implications of the global coronavirus pandemic.
AA X 5
Senior Bennet Huang and junior Evan Davis both rank in the top 10 nationally in the all-around. Davis ranks ninth with an 80.183 national qualifying average, while Huang is 10th with a 80.083 NQA.  Carter Tope (78.200) is 13th, Stewart Brown is 15th (78.100), and James Friedman (77.600) is 18th.
IN THE NCAA RANKINGS
Carter Tope – 6th – Parallel Bars – 13.683
Evan Davis – 9th – Still Rings – 13.517
Stewart Brown – 15th – Parallel Bars – 13.483
Bennet Huang – 15th – Floor – 14.000
Zac Tiderman – 14th – Still Rings – 13.400
Evan Davis – 18th – High Bar – 13.250
HAWKEYE NOTABLES
Iowa gymnastics took the title in four of six events and the all-around in victory over No. 5 Penn State on Feb. 20. Senior Bennet Huang won on floor, Huang and sophomore Carter Tope shared the crown on parallel bars, and junior Evan Davis tied in the top spot on the horizontal bar on his way to the all-around victory.
Freshman James Friedman competed in the all-around for the first time at Iowa. He posted an overall total of 77.600 and set career bests on vault (14.000), parallel bars (11.800), and horizontal bar (12.550).
Texas natives Evan Davis and Drew Helberg created new career bests on Feb. 20. Davis broke his vault record with a score of 14.350, and Helberg's 13.200 on pommel was his personal best.
Junior Peyton Hobson and sophomore Amari Sewell broke career bests in a single event for the second time in as many meets. Hobson's parallel bars record now sits at 12.650 and Sewell's pommel high has become 12.900.
Cater Tope posted season bests in four events vs. Penn State, and tied his career high on pommel (13.350).
ZAC TIDERMAN INJURY
Freshman Zac Tiderman's season has come to an end after having a procedure to repair his meniscus. He was injured during warmups prior to the Hawkeyes' home opener against No. 4 Illinois.
FOLLOW THE HAWKEYES
Fans can follow the Iowa men's gymnastics program on social media on Instagram (@iowamgym) with live updates on Twitter (@mensgymiowa) and via Facebook (iowamensgymnastics).
NEXT UP
The Hawkeyes will travel to Columbus, Ohio, for a Saturday, March 13 matchup against Ohio State at noon (CT).