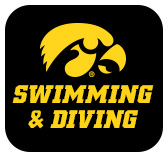 COLUMBUS, Ohio – The University of Iowa men's swimming team's top finish of the day came from junior Anze Fers Erzen in the 400 IM on Thursday at the Big Ten Championships at the McCorkle Aquatic Pavilion.
Fers Erzen grabs the top spot in the 400 IM "B" final with an almost two second drop from his prelim time. The junior finished with a 3:46.18 and received an NCAA "B" cut for his efforts.
In the first event of the evening, the Hawkeyes competed in the 100 fly finals. The sole competitor was sophomore Sergey Kuznetsov, who tied for 14th-place with a time of 47.37. In the prelims, Kuznetsov swam his best time of the season with a 46.91.
The Hawkeyes best overall finish on the evening came in the 200 free. The junior trio of Mateusz Arndt, Andrew Fierke, and Aleksey Tarasenko capped off the evening with three finishes in the "B" final. Arndt took 10th with a 1:35.18, Fierke took 12th with a 1:35.62, and Tarasenko was 16the with a 1:36.38.
Arndt and Fierke managed to make their mark in the record books, grabbing the fourth and sixth spots in the 200 free.
Iowa is in eighth place with 325.5 points following the first three days of the championships. Ohio State leads the way with 767 points.
UP NEXT
Friday's action will begin at 10 a.m. (CT) and consists of the 100 back, 100 breast, 200 fly, 200 free-relay. The finals will begin at 5:30 p.m. (CT).