By ABIGAIL WISECUP
hawkeyesports.com
IOWA CITY, Iowa –The University of Iowa women's gymnastics program has shaped Erin Castle, Emma Hartzler and Clair Kaji.
The trio of GymHawk seniors will compete in their final home meet Saturday afternoon against No. 19 Illinois. The three will then be honored in a post-meet ceremony.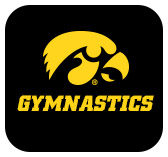 "The person I walked into college as and the person I am leaving are two different people," said Castle, a native of Boone, Iowa. "Being on the team has allowed me to grow to be who I am going to be for the rest of my life."
Castle committed to the University of Iowa as a sophomore in high school and throughout her Hawkeye career, she has competed as an all-around gymnast. Her favorite memory was defeating Iowa State for the first time in four years in 2020 at Hilton Coliseum because her family, who largely rooted for the Cyclones, were in attendance.
After graduation, Castle will move to Nashville, Tennessee, for graduate school at Belmont University to receive her master's degree in sports administration.
Hartzler is grateful Iowa head coach Larissa Libby gave her an opportunity to compete beyond high school. She will forever cherish the memories she has made as a Hawkeye.
"My most memorable moment has to be my first home meet at Carver-Hawkeye Arena my freshman year," said Hartzler, a Marion, Iowa, native. "Or it was when I landed my vault for the first time at Michigan. I had worked so hard to get it, and it was a new vault that I had never brought to competition before."
Hartzler is planning on continuing her education in nursing.
For Kaji, a fifth-year Hawkeye, being a part of the team extends beyond gymnastics.
"I used to be extremely introverted and didn't really like myself," said Kaji. "I have gained so much confidence and am so proud to be who I am."
Kaji's battled through an Achilles tear as a sophomore and her first senior season was cut short because of the COVID-19 pandemic.
"The injury put me outside of the sport, which gave me a different perspective," she said. "I was more of a learner, which changed my perspective of how I thought of myself, which was always a gymnast. I had the mentality of if I am not a gymnast than who am I? From then on, I have been grateful for learning everything that I did that year and have always been grateful for being able to compete."
Kaji is using her fifth year to start her master's of social work program. Her passion for helping oppressed population in the United States has led her to study social work and criminal justice.
The trio has been instrumental in a banner year for the Hawkeyes.  Iowa claimed the regular season Big Ten title – the first in program history – with a Big Five Meet victory on Feb. 27 and the team achieved a No. 7 national ranking, which is tops all-time.  The Hawkeyes also scored a 196.800 in a come-from-behind win over No. 11 Minnesota – the best score by the team since 2004.