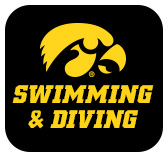 COLUMBUS, Ohio – University of Iowa sophomore men's swimmer Will Myhre broke the school record in the 100-yard breaststroke in both the prelims and finals Friday at the Big Ten Swimming Championships at the McCorkle Aquatic Pavilion.
Myhre took down Roman Trussov's school record time of 52.17 seconds in the prelims, finishing with a time of 51.81 seconds to punch his ticket into the "A" final. The St. Charles, Illinois, one-upped himself, posting a time of 51.70 seconds in the final to record a sixth-place finish.
In the first event of the evening, the Hawkeyes competed in the 100 back finals. The sole competitor was sophomore Ryan Purdy, who finished10th with a time of 46.82. In the prelims, Purdy swam a career-best 46.78 – a time that ranks third-fastest in school history.
The Hawkeyes had three finalists in the 200 fly. The trio of junior Jackson Allmon, sophomore Sergey Kuznetsov, and junior Mateusz Arndt all competed in the "C" final. Allmon finished 18th (1:46.62), Kuznetsov was 19th in 1:46.67 , and Arndt was 24th with a 1:52.11.
Allmon and Kuznetsov managed to make their mark in the record books, grabbing the seventh and eighth spots in the event.
In the final event of the evening the Hawkeyes finished seventh in the 200-free relay. The quartet of junior Aleksey Tarasenko, Kuznetsov, freshman Seth Miller, and Myhre swam a 1:18.54 to grab a seventh-place finish. The time ranks eighth in the school record books.
Iowa sits in eighth place with 444.5 points following the first four days of the championships. Indiana leads the way with 1036.5 points.
SPORTSMANSHIP HONOREE
Junior Anze Fers Erzen was Iowa's recipient for the Big Ten Sportsmanship Award.
UP NEXT
The Hawkeyes close out the championships Saturday beginning at 10 a.m. (CT). The day will consist of the 100 free, 1,650 free, 200 back, 200 breast, and 400 free relay. The finals will begin at 5:30 p.m. (CT).