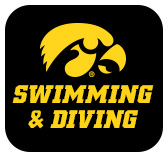 COLUMBUS, Ohio – The University of Iowa men's swimming and diving team finished eighth at the Big Ten Swimming Championships, which concluded Saturday at the McCorkle Aquatic Pavilion.
The Hawkeyes finished with 465.5 points over the five-day meet; Michigan claimed the Big Ten title with 1,196 points.
Iowa's best finish of the day came in the final event of the meet. Junior Aleksey Tarasenko, sophomore Sergey Kuznetsov, sophomore Ryan Purdy, junior Mateusz Arndt swam a 2:53.98 in the 400-free relay to place sixth overall. This time puts them sixth on the on record list in school history.
In the first event of the evening, the Hawkeyes competed in the 100 free finals. Tarasenko was the sole competitor, finishing 11th with a 43.25. He also received a "B" cut for his efforts.
The Hawkeyes had two finalist appearances in the "B" final in two separate events.
Sophomore Ryan Purdy finished 13th in the 200 back with a 1:44.43 and junior Anze Fers Erzen finished 16th with a 1:45.08. The time from Purdy's prelim swim – 1:42.95 — moves him up to fifth-all time in the event.
Iowa had two "B" finalists in the 200 back in sophomore Will Myhre and senior Daniel Swanepoel. Swanepoel finished 11th with a 1:55.77 and Myhre was 15th with a 1:56.33.
The Hawkeyes' top finisher In the 1,650 free was sophomore Evan Holt, who swam a 15:24.47 to finish 20th. This gives Holt the ninth-best time in school history.
UP NEXT
The Hawkeyes will await word on the official psyche sheet for the 2021 NCAA Championships, which will be held March 24-27 in Greensboro, North Carolina.