By SHANE STURTZ
hawkeyesports.com
IOWA CITY, Iowa — The University of Iowa women's basketball team (15-8, 11-8) swept the season series over Nebraska (11-11, 9-10) with an 83-75 victory in the regular-season finale on Saturday night inside Carver-Hawkeye Arena.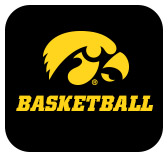 In a game that featured zero double-digit leads, 11 ties and 10 lead changes, Iowa was able to put Nebraska away in the fourth quarter. Trailing by two heading into the fourth, Iowa limited Nebraska to 5-of-16 shooting, outscoring the Huskers 25-15 in the final frame. It took Nebraska nearly five minutes into the fourth quarter to make their second field goal.
"It was more of an attitude change," said head coach Lisa Bluder of Iowa's defensive late in the game. "Let's quit messing around and start playing some defense and then we got stop after stop. They only scored one time in the first seven possessions. Getting those back-to-back stops gives you momentum."
It also helps to have Caitlin Clark, too. The freshman from Des Moines, Iowa, scored 19 of her game-high 35 points in the fourth quarter for her 11th 30-point game of the season to help Iowa get over the hump down the stretch.
"I know (Clark)'s going to bounce back" Bluder said. "She's a shooter. She's a kid that it's not going to affect her that much, because she has great confidence – and you should have, playing at this level."
Clark missed only one shot in the final frame, going 4-of-5 from the field, 3-of-4 from the long distance, and 8-of-8 from the charity stripe.
In Iowa's 16-6 run to start the fourth quarter, Clark scored 12 points, to give the Hawkeyes some breathing room, leading 74-66 with 5:17 left to play. Nebraska cut Iowa's deficit to five, 76-71, with 3:07 remaining, but with just over one minute remaining, Clark's fifth 3-pointer gave Iowa an eight-point lead.
The dagger helped give Iowa its eighth win in the last 11 meetings against Nebraska.
Sophomore Gabbie Marshall was a spark on both ends for the Hawkeyes, scoring 14 points on 4-of-5 shooting from behind the arc and swiping three steals on defense. Sophomore McKenna Warncok was the third Hawkeye in double figures with 12 points.
Redshirt sophomore Kate Martin scored seven points, grabbed a career-high eight rebounds, and dished out a game-high five assists.
SENIOR NIGHT
Redshirt senior Alexis Sevillian and senior Zion Sanders were honored after tonight's game. The two were Iowa's captains this season.
"We needed to have great leadership this year with a young team and the pandemic," Bluder said. "If you have a veteran team, it's easier to get through these situations, but when you have a young team, they need guidance, and (the two seniors) provided guidance. Zion and Alexis were outstanding captains this year. They stayed positive. They gave insight to our players. They could have not enjoyed their role this year as far as not being on the court as much. Neither one of them pouted about that. Both of them took what role they did have and made the most of it. I really admire both of them for that."
Sevillian, a Goodrich, Michigan native, has appeared in 111 games, with 65 starts in her Hawkeye career, averaging 5.9 points per game on 34.6 percent 3-point shooting.
"The leadership me and Zion have been able to provide to the team hasn't been easy with COVID, but we've done a great job," Sevillian said. "Having the last game in Carver is a little sad. You don't really want this moment to come. You're also celebrating something so big and is such a big accomplishment."
Sanders, an Evansville, Indiana, native appeared in 61 games in her Hawkeye career and was a leader on and off the court.
OF NOTE
Clark scored her 601st point of the season 3:08 into the game, becoming the fifth Hawkeye to record 600 points in a single season. She joins Hawkeye greats Megan Gustafson, Cindy Haugejorde, Michelle Edwards, and Franthea Price. Clark now has 631 points on the season.
UP NEXT
Iowa earned the six seed in the Big Ten Tournament and will face 11th-seeded Purdue on Wednesday, March 10. The game will tipoff 25 minutes after the conclusion of the previous game between Penn State and Michigan State that begins at 5:30 p.m. (CT). The game will be televised on FS2.