IOWA CITY, Iowa – Three University of Iowa divers – senior Jonatan Posligua, junior Sam Tamborski, and freshman Sarah Ballard – will travel to Lexington, Kentucky, to compete in the NCAA Zone D Diving Championships from Thursday through Saturday at the Lancaster Aquatic Center.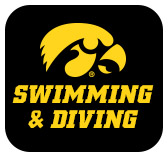 The men's schedule includes 3-meter on Thursday, platform on Friday, and 1-meter on Saturday. The women order will be 1-meter on Thursday and 3-meter on Friday.
Posligua, who will compete in his fourth NCAA Zone Diving meet this week, leads the team on the 1-meter (308.50) and platform (301.70). The Ecuador native finished 16th off the platform at the 2021 Big Ten Championships.
Tamborski, who earned CSCAA All-America distinction off the 3-meter in 2020, will dive in her third Zone meet this weekend. The Colorado native leads the team with a score of 322.25 this season. She finished ninth off the 3-meter and 17th off the 1-meter at the 2021 Big Ten Championships.
Ballard will take the same path as Tamborski, but she will be competing in her first NCAA Zone meet. The Indiana native leads the Hawkeyes off the 1-meter this season with a score of 294.15. Ballard scored at her first Big Ten Championships, placing 20th off the 1-meter.
Prelims begin at 9:30 a.m. (CT) each day.
The duration of the NCAA Zone D Diving Championships will be streamed live on ukathletics.com. Live results will also be available on divemeets.com.