By SHANE STURTZ
hawkeyesports.com
INDIANAPOLIS – In the second round of the Big Ten Tournament, the sixth-seeded University of Iowa women's basketball team (16-8) downed 11th-seeded Purdue (7-16), 83-72, on Wednesday night inside Bankers Life Fieldhouse.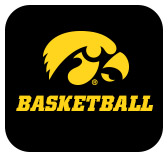 In a tightly contested game for the first three quarters, the Hawkeyes outmatched the Boilermakers in the fourth quarter to advance to tomorrow night's quarterfinals to face third-seeded Rutgers.
Iowa shot a season-low 14 percent (3-of-22) from 3-point range, but junior Monika Czinano's career-high 38 points made up for it. Czinano and freshman Caitlin Clark (27 points) combined for 65 of Iowa's 83 points as the Hawkeyes outscored the Boilermakers 44-22 in the paint.
"If you were going to tell me we made three 3-pointers and won a game by 11 points, I would say you're crazy," head coach Lisa Bluder said. "I would not think that at all. Our 3-pointers weren't going down for us, but you know Monika Czinano was. She did a tremendous job for us."
Czinano made her first nine field goals and missed only two shots all night, going 16-of-18 from the floor and 6-of-6 from the free throw line. Her 38 points tied for the fourth most in a Big Ten Tournament game, her 15 field goals made were the third most in the tournament game, and her 88.8 field goal percentage was the second best in tournament history.
"It feels even better to win," said Czinano when asked about her record-setting performance. "Last year going home early wasn't a feeling I ever wanted to remember. The most important part is that we get to go back to the hotel tonight and go to bed in Indianapolis."
Iowa led by as much as nine (30-21) in the first half, but Purdue wouldn't go away. The Boilermakers used a 15-4 run late in the second quarter to take a 36-34 lead. Iowa led by one at halftime thanks to Czinano's 18 first-half points.
Neither team led by more than six points in the third quarter. Iowa led 56-52 heading into the fourth quarter, before Purdue took a 57-56 lead on Madison Layden's fifth 3-pointer. Purdue led by one, 61-60, with 7:37 remaining, and then it was all Hawkeyes the rest of the way.
Sparked by seven straight Czinano points, Iowa went on a 9-0 run to take a 69-61 lead, forcing a Purdue timeout with 5:43 left to play. The Boilermakers cut it to six out of the timeout, but that's all the closer they could get. Iowa's lead increased to 14 with just under three minutes left to play.
Czinano scored 12 points in the fourth quarter and Clark added 11 fourth-quarter points to cap off Iowa's second round win. Clark finished with 27 points, nine assists, and seven rebounds.
UP NEXT
Iowa faces third-seeded Rutgers tomorrow night. The game will be televised on FS2 and  tip off 25 minutes after the conclusion of the Michigan State vs. Indiana game that tips off at 5:30 p.m. (CT).