IOWA CITY, Iowa – University of Iowa sophomore Will Myhre has officially qualified for the 2021 NCAA Men's Swimming and Diving Championships, it was announced Wednesday.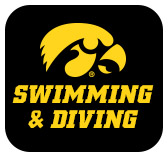 The St. Charles, Illinois, native earned a spot in the championships after swimming a school-record time of 51.70 seconds in the 100-yard breaststroke at the 2021 Big Ten Championships. Myhre ranks 14th nationally in the event heading to Greensboro, North Carolina.
Myhre will also compete in the 200-yard breaststroke, where his time of 1:55.83 ranks 43rd nationally.
The NCAA Championships will be held at the Greensboro Aquatic Center from March 24-27. Myhre will compete in the 100 breast on March 26 and the 200 breast on March 27.