THIS WEEK
The eighth-ranked University of Iowa men's gymnastics team travels to Columbus, Ohio, to face No. 6 Ohio State on Saturday, March 13 at noon (CT) inside the Covelli Center.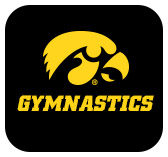 FOLLOW LIVE
Saturday's meet will be streamed on BTN+.
Fans can follow along via live results at hawkeyesports.com.
WHAT YOU NEED TO KNOW
The Hawkeyes took their first loss of the 2021 season on March 6 at the hands of No. 2 Michigan. Iowa's Bennet Huang won all-around and floor, while Stewart Brown was the vault champion.
Iowa is ranked No. 8 in the country in the Road to Nationals rankings. Iowa ranks sixth nationally on vault, seventh on parallel bars, and eighth on floor, pommelhorse, rings, and horizontal bar.
Junior Evan Davis was named a one of four February's Student-Athletes of the month by Iowa's Student-Athlete Academic Services.
Twice this year a Hawkeye has been named Big Ten Gymnast of the Week. Senior Bennet Huang earned that distinction on Feb. 1, and junior Evan Davis held that title on Feb. 13.
Iowa's team captains for the 2021 season are Bennet Huang, Evan Davis, and Peyton Hobson.
The 2021 season will be the final season for the Iowa men's gymnastics program. It was announced in August that the program would be discontinued because of the financial implications of the global coronavirus pandemic.
3 CAREER BESTS ON VAULT
Iowa had a ridiculous vault rotation in Ann Arbor as three different Hawkeyes scored a career high on their way to a 1-2-3 finish.
14.650 – Stewart Brown
14.600 – Bennet Huang
14.400 – Carter Tope
AA X 3
Senior Bennet Huang and junior Evan Davis both rank in the top 10 nationally in the all-around. Huang ranks sixth with an 81.283 national qualifying average, while Davis is eighth with a 80.850 NQA. Stewart Brown is 13th with a NQA of 78.017.
IN THE NCAA RANKINGS
Carter Tope – 10th – Parallel Bars – 13.683
Bennet Huang – 13th – Floor – 14.200
Bennet Huang – 14th – Pommel – 13.667
Evan Davis – 15th – Still Rings – 13.533
Stewart Brown – 15th – Vault – 14.467
Amari Sewell – 16th – Vault – 14.450
Evan Davis – 18th – High Bar – 13.367
Peyton Hobson – 20th – Still Rings – 13.450
HAWKEYE NOTABLES
Iowa gymnastics took the title in two events (floor and vault) and the all-around in the loss in Ann Arbor on March 6. Senior Bennet Huang won on floor in his all-around winning performance of 82.650 (season high), and junior Stewart Brown took the title on vault.
Huang, the Palo Alto, California, native, posted season bests in four events: 14.500 on floor, 14.250 on pommel, 14.600 on vault, and 13.450 on the parallel bars.
Junior Peyton Hobson has now broken a career best in three straight in meets; his rings career high now sits at 13.750, and he tied his parallel bars high of 12.650.
Senior Kulani Taylor posted a floor season high of 13.900.
ZAC TIDERMAN INJURY
Freshman Zac Tiderman's season has come to an end after having a procedure to repair his meniscus. He was injured during warmups prior to the Hawkeyes' home opener against No. 4 Illinois.
FOLLOW THE HAWKEYES
Fans can follow the Iowa men's gymnastics program on social media on Instagram (@iowamgym) with live updates on Twitter (@mensgymiowa) and via Facebook (iowamensgymnastics).
NEXT UP
The Hawkeyes will host Nebraska for Senior Day inside Carver-Hawkeye Arena on March 20 at 3 p.m. (CT).  It will be the program's final home meet in its history and the competition will be televised on BTN.