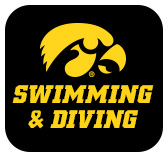 LEXINGTON, Ky. – Junior Samantha Tamborski led the way for the University of Iowa divers at the NCAA Zone D Championships at the Lancaster Aquatic Center.
Tamborski placed 17th overall off the 1-meter, finishing with a score of 260.10 points.
Freshman Sarah Ballard and senior Jonatan Posligua were the other competitors in today's events. Ballard posted a 236.25, giving her 25th-place in the 1-meter, while Posligua posted 256.25 to finish 19th in the 3-meter.
The Hawkeyes return to action Friday with the women's 3-meter and men's platform. Action begins at 9:30 a.m. (CT).