By SHANE STURTZ
hawkeyesports.com
INDIANAPOLIS – Last night it was junior Monika Czinano's night. Tonight it was sophomore Gabbie Marshall's.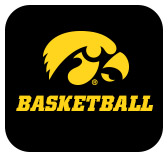 Marshall poured in a career-high 27 points, including 22 in the first half, on a career-high seven 3-pointers to help the sixth-seeded University of Iowa women's basketball team (17-8) powered past third-seeded Rutgers (14-4), 73-62, in the Big Ten Tournament Quarterfinals on Thursday night inside Bankers Life Fieldhouse.
"It's March," said Marshall, who also grabbed a career-high seven rebounds. "We know anything can happen. We're going to have full confidence in each other and do whatever we can to pull off these big wins."
Iowa snapped Rutgers' nine-game winning streak to advance to the Big Ten Tournament semifinals for the second time in the last three seasons.
Marshall made six first-half triples – two in the first quarter and four in the second quarter – to  help Iowa jump out to a 39-18 lead with 3:35 remaining in the first half.
"(Marshall) had some good looks and when you give her those good looks, she's money," head coach Lisa Bluder said. "She's shot the ball well for us all year. When somebody has the hot hand, you hunt them, and find them in those situations. Our team did a good job of locating her."
Iowa held a 39-25 halftime advantage after Rutgers ended the second quarter on a 7-0 run.
Marshall was one of three Hawkeyes in double figures. Freshman Caitlin Clark recorded her eighth double-double of the season with 21 points and 10 assists and junior Monika Czinano followed up her career night with 20 points and five rebounds.
Czinano scored eight of Iowa's first 11 second-half points to increase the Hawkeye lead to 50-35. Rutgers brought the game to single digits with just over a minute left in the third quarter on an Arella Guirantes 3-pointer, but Iowa was able to withstand Rutgers' third-quarter push and led 60-49 heading into the fourth quarter.
Sophomore McKenna Warnock drained her first 3-pointer of the night to give the Hawkeyes a 69-54 lead with 6:33 left to play. The Scarlett Knights, however, responded with a 7-0 run, forcing Iowa to call a timeout with a 69-61 advantage.
Rutgers made a defensive stop out of the timeout, but followed it up with an empty possession on the offensive end, and Iowa capitalized. With 49 seconds left after a nice feed for Clark's 10th assist, a Czinano layup increased Iowa's lead back to 10 and put the nail in the coffin.
HEAR FROM HEAD COACH LISA BLUDER:
"This is such a difficult conference. We've been beating up on each other all year long. It's going to be fun to watch the NCAA Tournament. I hope we have eight teams in. The Big Ten is going to make a lot of noise in postseason play this year."
OF NOTE
Iowa was 10-of-24 from 3-point range tonight after going 3-of-22 last night against Purdue.
Warnock pulled down 12 rebounds to record her eighth game with at least 10 boards.
Redshirt sophomore Kate martin dished out six assists.
UP NEXT
Iowa faces Michigan State in the Big Ten Tournament semifinals tomorrow at 4 p.m. (CT) on FS2. In the only regular season meeting, the Hawkeyes fell to the Spartans, 86-82, in Iowa's Big Ten road opener.