LEXINGTON, Ky. – University of Iowa junior Sam Tamborski punched her ticket to the NCAA Championships for a third straight season Friday at the NCAA Zone D Diving Championships in the Lancaster Aquatic Center.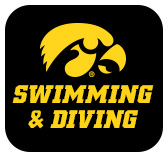 The Colorado native finished 10th off the 3-meter in prelims with a score of 317.90 points and she placed 11th overall to qualify for the NCAA meet. She had a final combined score of 617.60 points.
Tamborski, who was a CSCAA All-American as a sophomore, is the fourth women's student-athlete to qualify for the NCAA Championships, joining Kelsey Drake, Alyssa Graves, and Mallory Jump. The meet will take place from March 17-20 in Greensboro, North Carolina.
Freshman Sarah Ballard also competed off the 3-meter, where she placed 19th with a score of 292.10.
On the men's side, senior Jonatan Posligua placed 11th off the platform with a combined score of 603.90 points. His finals score of 302.95 was a season-best.
The Hawkeyes close out the NCAA Zone meet Saturday with the women's platform and men's 1-meter. Action begins at 9:30 a.m. (CT).