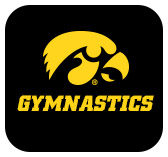 LINCOLN, Neb. — The 19th-ranked University of Iowa women's gymnastics team ended its regular season on a historical note, winning three and sharing one event title, in a 196.825-196.100 victory over No. 33 Nebraska on Sunday inside the Bob Devaney Sports Center.
The Hawkeyes not only set a new overall season high, but also notched the fourth-best score in school history. Three gymnasts added their names to the school record books for the 2021 season, four either tied or set career bests, and Iowa got event titles from freshman Adeline Kenlin, sophomore JerQuavia Henderson and sophomore Allyson Steffensmeier. Henderson also tied for first place on vault.
QUOTING HEAD COACH LARISSA LIBBY
"This was a good night to end our regular season.  Even though we had mistakes, it was the first time in a couple of weeks that it felt "normal" out there again. We were strong, but not perfect, and I like that.
"This gives us a chance to be laser focused on all the little details we know we can improve on. We are in a good place and I am proud of my team and staff. It took a lot of effort to be able to get to this point of the season, safely and successfully. We are heading to the postseason now and we have "B1G" goals.  We have a day off tomorrow, then we're back to the grind."
VAULT 
Iowa posted a new season-high score of 49.225. The Hawkeyes, who are third on vault in the Big Ten, tied for the top spot and also finished as runner-up. Henderson shared the first place title with a score of 9.900. Junior Bridget Killian placed second after scoring a 9.875, which is a new career-best and Kenlin followed with a 9.850, which ties her career record. Junior Lauren Guerin posted a 9.825.
BARS
The Hawkeyes had two gymnasts share the No. 1 spot on bars after posting an overall score of 49.225. Steffensmeier and Kaji shared the event title, both scoring a 9.925, which is sixth-best in school history. Kaji set a new career high, which beat her previous score of 9.900 set in 2019. Steffensmeier tied her career best. Emma Hartzler scored a 9.850 and Kenlin scored a 9.800.
BEAM 
Iowa, who is ranked fourth in the Big Ten, posted a 48.925 on beam, with Kenlin taking the top spot. The Iowa City native scored a career-high 9.975, which ties for the overall highest score in school history, which was set by Janna Alexandrova who set it twice in 2001-02. One of the two judges gave Kenlin a 10.0.  Kaji scored a 9.925 and Killian set a new career-best with a 9.875.
FLOOR 
The GymHawks, who are No. 5 nationally and No. 1 in the Big Ten on floor, posted a 49.450, which is the second-highest score this season and ranks fifth in school history. Henderson was the event winner with a score of 9.925, while Kaji and Guerin both tied for second place with a score of 9.900. Kenlin made her career debut on floor, scoring a 9.875.
ALL-AROUND 
Kenlin made her career debut, becoming the second GymHawk to compete in the all-around event this season. She scored a 39.500, which is a new season high, to earn the all-around title.
UP NEXT
The Hawkeyes return to action on March 20, traveling to Minneapolis to compete in the Big Ten Championships.