IOWA CITY, Iowa – University of Iowa women's gymnast Adeline Kenlin has been named the Big Ten Freshman of the Week, it was announced Monday by the league office. It is Kenlin's fourth accolade this season.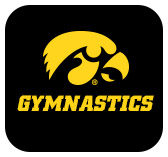 The Iowa City, Iowa, native earned the distinction after winning her first career all-around title in Iowa's road victory at Nebraska on March 14. She finished with a score of 39.500, which is a high by a GymHawk this season, in her first time competing in all-around.
Kenlin finished in the top five in all four events, including winning the beam title. She tied a school record – last set in 2001-02 by Janna Alexandrova – posting a career-best score of 9.975. She received one perfect 10.0 from one of the judges.
Along with her beam finish, Kenlin tied a career-high on vault with a 9.850 to tie for fourth and tied for fifth on both bars (9.800) and floor (9.875). It was Kenlin's first floor performance this season.
Kenlin helped the Hawkeyes post a season-high team score of 196.825, which ranks fourth all-time in school history.
Iowa is ranked 18th in the Road to Nationals rankings with a national qualifying score of 196.713. The Hawkeyes are third nationally on floor, 18th on vault, and 22nd on beam and bars. Kenlin is tied for eighth nationally on beam with a 9.944 NQS.
Kenlin is the ninth Hawkeye to earn Big Ten weekly honors this season, extending the record for the most honorees in a single season in school history. Kenlin has been recognized four times, senior Clair Kaji three times, and junior Lauren Guerin has been honored twice.
The Hawkeyes head to Minneapolis on Saturday to compete in the Big Ten Championships. Iowa finished the regular season with a 10-1 record and the program won its first Big Ten regular season title.