IOWA CITY, Iowa – Four University of Iowa women's gymnasts – senior Clair Kaji, junior Lauren Guerin, sophomore JerQuavia Henderson, and freshman Adeline Kenlin – earned All-Big Ten recognition for the 2021 season, it was announced Wednesday by the league office.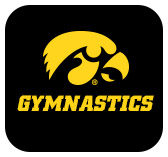 Kaji, Kenlin, and Henderson were named first-team All-Big Ten selections, while Guerin was a second-team honoree. It is the first time since 2001 the Hawkeyes have had three first team honorees.
Kaji, a Vancouver, Canada, native, earned her third career All-Big Ten honor after winning seven event titles during the regular season. The three-time Big Ten Specialist of the Week honoree has a 9.919 national qualifying score on the beam and a 9.925 NQS on floor. She posted career-highs on bars (9.925), beam (9.950) and floor (9.925) this season.
Kaji was previously a first-team selection in 2018 and a second-team honoree in 2017. Kaji is the first Hawkeye since Houry Gebeshian (2009-11) to earn three All-Big Ten recognitions. She is the ninth Iowa gymnast to earn multiple first-team honors.
Henderson earned her first career honor after winning six event titles during the 2021 season. The Peoria, Illinois, has competed in all-around in six meets, where she has a 39.175 NQS. Henderson set a school record on floor, posting a 9.975 (including one perfect 10.0) and her 9.925 score on vault ranks ninth in school history. She has set career-highs in all four events.
Kenlin also earned her first career All-Big Ten honor after winning five event titles during the regular season. The Iowa City, Iowa, native tied the school record on beam, posting a 9.975 score (including one perfect 10.0) on March 14 at Nebraska. Kenlin has earned four Big Ten Freshman of the Week honors and she is tied for eighth nationally on beam with a 9.944 NQS.
Guerin earned her second straight All-Big Ten recognition after being one of the top floor performers in the Big Ten. The Austin, Texas, native has scored 9.925 or higher in four meets and has hit the 9.900 mark in all but one meet. Guerin has four event wins and has earned two Big Ten Specialist of the Week honors. Her floor NQS of 9.938 ranks 11th nationally.
Guerin was a first-team All-Big Ten selection as a sophomore.
Junior Allie Gilchrist was also named the recipient of Iowa's Big Ten Sportsmanship Award.
Iowa has enjoyed a banner regular season, earning the first Big Ten title in school history. The team finished with an 8-0 league record, which included a victory at the Big Five Meet in Ann Arbor, Michigan. The Hawkeyes, who are 10-1 overall, also climbed as high as No. 7 in the Road to Nationals rankings – the highest for the program all-time.
During the regular season, Iowa posted three of the top eight team scores all-time and the team has three of the top nine team floor scores. The GymHawks set the floor record, scoring a 49.600 in the meet against Maryland and Minnesota on Feb. 13.
The Hawkeyes also had nine gymnasts earn Big Ten weekly recognition, which are the most for the program in school history.
Iowa begins postseason action Saturday, traveling to Minneapolis for the Big Ten Championships at the Maturi Pavilion. The Hawkeyes will compete in the night session, beginning at 5:30 p.m. (CT), and it will be televised live on BTN.