IOWA CITY, Iowa — The University of Iowa soccer team fell, 1-0, to No. 9 Penn State on Thursday afternoon at the Iowa Soccer Complex.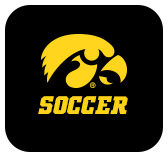 On a cold and rainy afternoon, the Hawkeyes had their work cut for them against the ninth-ranked Nittany Lions, who entered the contest with 22 goals in eight games this season. Iowa kept the game a defensive battle, and they limited Penn State to one goal for the first time this season. 
That was thanks in large part to freshman goalkeeper Macy Enneking. Her six saves mark a new career best, including a diving save at the start of the second half that deflected an otherwise dead-on shot off the top of the crossbar.
Still, Iowa was not able to find the net, and a first–half score by Penn State's Ally Schlegel off an assist form Frankie Tagliaferri was enough for the Nittany Lions to get out of Iowa City with the win. 
HEAR FROM HEAD COACH DAVE DILANNI
"The team has been so resilient and committed to growth throughout this process, and today is no different. Our performance as one, both tactically and physically, was exceptional. However, Penn State, who is a very good team, caught us early in the first half for a very good goal. I loved our approach to the second half and how we were able to create opportunities, at times putting Penn State on its heels. We won't get used to this feel of not winning. This group is hungry to continue to grow."
OF NOTE
– Goalkeeper Macy Enneking has allowed one goal in 232:03 so far this season.
– 90 TRACKER: Five Hawkeye position players played the entirety of Thursday's game. They are: Sara Wheaton (8), Samantha Cary (5), Rielee Fetty (5), Aleisha Ganief (4), Hailey Rydberg (2).
NEXT UP
Iowa hosts Purdue on March 28 at the Iowa Soccer Complex for Senior Day. Kickoff is set for 1 p.m. (CT).