By DARREN MILLER
hawkeyesports.com
IOWA CITY, Iowa — This is a story of the rich getting richer. It will elate University of Iowa track and field fans and make the rest of the Big Ten miserable.
Tysen VanDraska is back.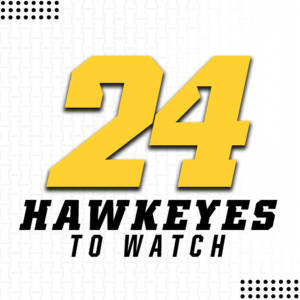 At the Big Ten Indoor Championships on Feb. 25-27, the Hawkeyes scored 119 points and won the team title by 27 points. Iowa appears stronger outdoors with the addition of VanDraska, who was out of indoor eligibility.
In late February, while the Hawkeyes were stringing together championship performances indoors, VanDraska and teammate Alex Birkett watched on television and cheered from a couch. On one hand, the Iowa middle distance runner wanted to be a part of the success and celebrate in person with his team. On the other hand…
"I know how much better we will be outdoors and it will be my turn coming up," VanDraska said.
He didn't wait long to make a statement. At a season-opening meet in Bloomington, Indiana, on March 27, VanDraska entered the 1,500-meter run for the first time as a collegian. He ran a 59-second final lap and won the race in a time of 3-minutes, 47.81-seconds — less than a second from cracking Iowa's all-time top 10.
VanDraska, who owns the seventh-best 800 time in Iowa history (1:48.52), wanted to get into a 1,500, but an opportunity never presented itself. Until the Big Ten Invitational No. 1 in Bloomington.
"It will help make the 800 feel shorter," VanDraska said of upping his race distance.
Prior to running the 1,500, the last time VanDraska competed in a Hawkeye uniform was in the 800 final at the 2019 Big Ten Indoor Championships. It was the third time he made a Big Ten final and he finished sixth in 1:50.00.
"It is my last shot and I'm feeling confident."

Tysen VanDraska
Assistant coach/recruiting coordinator Jason Wakenight trains the Hawkeye middle distance crew. In VanDraska, he sees a great racer and unbelievable competitor.
"I think something spectacular is about to happen in the 800," Wakenight said. "He is a guy who is not only looking to make another final, but to also compete for a medal. Being an individual medalist in the conference is the final piece of his puzzle he is looking to fill."
Equaling VanDraska's result in the 1,500 was his effort in the 800 during the second weekend of outdoor season. On April 2, he won the 800 in 1:49.36; the following day he anchored Iowa's 4×800 relay to first in 7:29.81. The open 800 had a distinctive VanDraska feel: he was in sixth place at the bell, then closed with a 55.48 final 400 to defeat Wisconsin's Abdullahi Hassan by 0.16 seconds.
VanDraska said his goals have not changed since joining the Hawkeyes from Cedar Rapids (Iowa) Prairie High School in the fall of 2016. He wants to win a Big Ten championship, make it to nationals and qualify for the Olympic Trials.
"It is my last shot and I'm feeling confident," VanDraska said.
As a senior at Prairie, VanDraska turned in runner-up finishes in the 800 (1:53.78) and 1,600 (4:17.42) runs and anchored the Hawks to third in the 1,600-meter medley relay and fourth in the 4×800 relay. Entering his final outdoor season, his PRs have improved to 1:18.85 in the 600, 1:48.52 in the 800, 2:25.35 in the 1,000 and 3:47.81 in the 1,500.
"From an inspirational, energy and body language standpoint, when he is racing, I feel our team's eyes are all on him," Wakenight said. "Having performances like his ignite our team and gets us going at meets; that will add a lot of punch to our lineup."
It is worth repeating: adds more punch to an already loaded lineup. VanDraska is one of 11 Hawkeyes who have been added since the indoor season, and they will surely enhance the team's scoring potential at Big Tens and beyond.
"We have more firepower," VanDraska said. "There is a target on us, but we know what we can do and we just have to go do it."
Growing up, VanDraska participated in about any sport that was in season. In elementary school, after doing well in the mile run for the Presidential Physical Fitness Test, he signed up for a local track and field club. He hasn't stopped running…or succeeding.
In the classroom, VanDraska earned a bachelor's degree in exercise science and is pursuing a master's in sport and recreation management, with a goal of working with a hockey team or at an ice arena. When the ImOn Ice Arena opened in Cedar Rapids in 2000, VanDraska attended a RoughRiders hockey game, fell in love with the sport and began skating. He played center on his club high school hockey team. Three times as a senior, he scored points in three straight games; he scored two goals in a game against Waterloo (twice) and Des Moines and had two assists against Quad City. VanDraska led his team with 14 goals (he scored 49 in his varsity career).
His footing is more solid on a track. As a junior, VanDraska was a member of Iowa's Big Ten championship team outdoors, when he placed sixth in the 800 (1:49.58). There was no outdoor meet in 2020, so the defending champions will defend their title May 14-16 in Champaign, Illinois.
With VanDraska back in the fold, it is a case of the rich getting richer.