IOWA CITY, Iowa – The University of Iowa track and field teams are unleashing their stable of multi-event performers Friday and Saturday at the Husker B1G Invitational in Prairie View, Texas.
Will Daniels, Peyton Haack an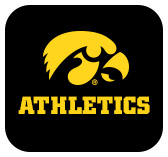 Austin West make their season debuts in the decathlon, and Dallyssa Huggins and Jenny Kimbro are competing in the heptathlon.
That means a couple things for the Hawkeyes. One, the men's and women's teams that are ranked first and third among Big Ten teams in the USTFCCCA national ratings are now throwing a collection of national champions, conference champions and school record holders into the scoring mix.
And two, Iowa coaches, teammates and fans get to see a competition that has been a long time coming.
"It's been a long time since doing a full decathlon, so I'm excited to see where our group is as a whole," said senior Will Daniels. "Putting all 10 events together should be exciting."
Daniels has a reputation that preceded him before transferring to Iowa. The senior won three NCAA titles in multi-events at Central College from 2018-19. He made an immediate impression in his first go-around in Iowa City, setting the then-school record in the indoor heptathlon in 2020. His marks were enough to earn a berth at the 2020 NCAA Indoor Championships, his first at the Division I level, before COVID derailed the competition and the rest of his senior season.
Today, 22 months after winning the DIII national title, Daniels is preparing for a long-awaited return to the track.
Is that nerve racking? Sort of, but not in a bad way.
"I wouldn't say there is anxiety. There is a lot more excitement," Daniels said. "There are nerves sometimes at practice, but in a good way. It means that you're excited for competition and your body is getting ready. Definitely, I feel some anticipation. I think we all do. But it is more excitement than nerves or anxiety."
"It's been a long time since doing a full decathlon, so I'm excited to see where our group is as a whole. Putting all 10 events together should be exciting."

Senior Will Daniels
Senior Jenny Kimbro is in a similar boat. She too was preparing for the NCAA Indoor Championships before COVID canceled the season last March. She too has waited 22 months to put together an outdoor heptathlon, and she too is taking a similar approach to the competition.
The key to success this weekend, said Kimbro and Daniels, is to narrow the focus on each singular challenge and opportunity.
"My goal is to take it one event at a time and not try to look at it in its entirety because that can freak you out a little bit," said Kimbro, who set the heptathlon school record nearly two years to the day this Saturday. "Taking it one step at a time is what's most important. Continue to do what we've done in practice and not make it bigger than it needs to be."
"Usually, the biggest challenge is maintaining focus across those events," added Daniels. "I know when I was younger, I had a tendency that if an event went well or poorly I kind of let that throw me off for subsequent events. Staying focused for all 10 events over multiple hours of competition is a challenge."
The multi-event athletes cherry-pick events at different meets throughout the season to train for the big one. Historically there is one outdoor multi-event competition on Iowa's regular season schedule that leads up to the postseason. That event is this weekend, which means preparation is deliberate.
"We take the days leading up to multis a lot easier, so our bodies are fully prepared," Daniels said. "Mentally it is totally different. A lot of normal meets feel more like training, whereas when you get ready for a decathlon it feels like for us it's one of our few opportunities to compete in the event that we're here to do."
That is what excites Daniels and Kimbro most; simply returning to the track to do what they came here to do. Doing it together is a bonus.
"We look out for each other's success," said Kimbro. "It's fun that we get to compete at the same time because we get to watch each other and cheer each other. That helps everyone and we're able to build momentum throughout the day. We practice together and we're supportive of each other. Being in a group like that helps."
Daniels, Haack and West kick off the two-day decathlon Friday at noon with the 100 meters. Huggins and Kimbro follow at 12:30 with the 100-meter hurdles. A complete schedule of events is available at hawkeyesports.com/tracklive.