IOWA CITY, Iowa — As plans move forward for a full capacity at Kinnick Stadium in 2021 and all University of Iowa home athletic events throughout the year, single game tickets for University of Iowa home football games will go on sale in early July.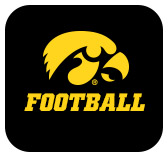 Single game tickets for all home football games will go on sale to I-Club members and season ticket holders beginning Sunday, July 11. Single game ticket sales to the general public will begin Thursday, July 15.
"We are preparing for and planning for 100 percent capacity and excited to welcome fans back to Kinnick Stadium and all of our venues," said Gary Barta, Henry B. and Patricia B. Tippie Director of Athletics Chair. "We are coming off one of the most successful athletic seasons in program history and are looking forward to continuing that momentum. Having our fans in the stands, cheering on our student-athletes, will only add to the success."
Season tickets for Iowa's seven home games in Kinnick Stadium remain on sale, and are available via hawkeyesports.com/Tickets, or by calling the UI athletics ticket office at 1-800-IA-HAWKS. The ticket office is open weekdays from 9 a.m. to 4 p.m. University of Iowa faculty/staff should contact the UI Athletics Ticket Office for season tickets. Season tickets for UI students also remain on sale.
"There is nothing better than playing in front of our loyal and supportive fans in Kinnick Stadium," said Kirk Ferentz, Moon Family head football coach. "A capacity crowd brings energy and enthusiasm to our players and everyone within the program."
Fight for Iowa (FFI), Black Mini Plan, and Gold Mini Plan ticket options are sold out.
All tickets in 2021 will be mobile. Fans may access tickets via the Hawkeye Sports App, a link via email, or account login at Hawkeyesports.com/myaccount. These tickets are optimized for display on your smartphone device and should not be printed. Fans can review additional information on mobile tickets by visiting Hawkeyesports.com/mobiletickets.
Iowa opens the 2021 football season Sept. 4, hosting Indiana (2:30 p.m., BTN).
Ticket information for the 2021 volleyball season and the 2021-22 winter sports seasons will be available soon on hawkeyesports.com.