ST. LOUIS – The University of Iowa soccer team defeated No. 21 Saint Louis, 1-0, on Sunday afternoon in St. Louis.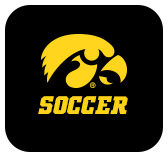 A first half goal by freshman Kenzie Roling was the difference in the shutout victory for the Hawkeyes. Roling scored in last Thursday's season opener against DePaul, and also found the net in each of Iowa's two preseason exhibitions.
The Hawkeyes outshot the Billikens 13-9 while allowing just one Saint Louis shot on goal, which was saved by goalkeeper Monica Wilhelm. Along with Wilhelm, four Hawkeye position players played the entirety of Sunday's game (Sara Wheaton, Aleisha Ganief, Samantha Cary and Rielee Fetty).
"Winning on Sunday is always a difficult task at this level, but it makes it more challenging playing a very successful program like Saint Louis," said Iowa head coach Dave DiIanni.  "We spoke a lot about trying to dictate the tempo of the game, needing to pick when to slow it down and when to speed it up. I couldn't have asked for my team to do anything more today.
"Kenzie has a special quality to put herself in position to score goals, and our team understands that and have helped her in that process. Getting an early goal today was critical, both teams dealing with low numbers and the humidity. Our back six players were incredible today. One game doesn't make a season but it's good to grind that win out for our program."
Iowa returns home next Thursday to kick off the annual Cy-Hawk Series against Iowa State. The Hawkeyes will host the Cyclones at the Iowa Soccer Complex at 6 p.m. (CT). Admission to all home games is free, and the contest will broadcast live on BTN.