IOWA CITY, Iowa – The University of Iowa soccer team defeated Southeast Missouri State, 2-0, on Sunday at the Iowa Soccer Complex. The Hawkeyes notched their fourth shutout and improved to 6-1-1 on the season.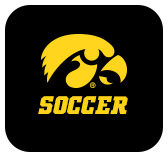 Iowa outshot the Redhawks 9-1 in the first 45 minutes of play but went into the locker room scoreless at the half.
"I think we just kind of reflected at halftime," says senior Samantha Tawharu. "We knew we weren't playing good enough at all. That's kind of the second time we've started a bit slow, and it's our last game before Big Ten play, so we really wanted to come out firing."
The Hawkeyes did just that, as Tawharu blasted a score in the 57th minute off an assist from captain Hailey Rydberg. Junior Natalie Massa launched a goal of her own in the 72nd minute to help secure the victory. The goal was Massa's first as a Hawkeye.
"The whole time I was thinking don't miss, don't miss," says Massa. "It was pretty special to get my first goal."
HEAR FROM HEAD COACH DAVE DIANNI
"You're going to have a little bit of a flat day the last game before you start the Big Ten Season. I think maturity-wise they were able to recognize our performance and our effort weren't good enough at halftime. The second half we played much better. We lacked a little bit of quality in the box, but I still love this team and I think this team is heading in the right direction. The lesson was that you are not going to be able to play like that in any more games the rest of the season.
"Natalie [Massa] came in fit, she is playing pretty well right now, and she has filled a lot of voids for us with Aleisha [Ganief] and Riley [Whitaker] being out. You want those kind of people that have invested in their experience and their careers to be able to be paid back, so that was very exciting for her."
HAWKEYE NOTABLES
Iowa outshot Southeast Missouri State 21-2 on the day; the Hawkeyes have outshot opponents 97-17 in the last two weeks, and 151-52 this season.
Tawharu and Massa each tallied their first goals of the season; eight Hawkeyes have combined for 15 scores this fall.
The Hawkeyes are undefeated in their last 27 games when scoring two goals or more; since the start of the 2018 season, Iowa has a record of 25-0-1 when scoring two goals or more.
90 TRACKER: Sarah Wheaton (seven) was the lone Hawkeye position player to play all 90 minutes on the day. Wheaton is one of eight Hawkeye position players to have registered at least 90 minutes in a game so far this season. They include Rielee Fetty (six), Samantha Cary (four), Addie Bundy (two), Olivia Hellweg, and Kenzie Roling.
UP NEXT
The Hawkeyes kick off Big Ten play next Sunday at 1 p.m. (CT) against Northwestern at the Iowa Soccer Complex.